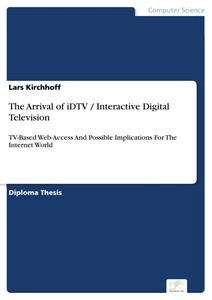 The Arrival of iDTV / Interactive Digital Television
TV-Based Web-Access And Possible Implications For The Internet World
Diplomarbeit 2001 84 Seiten
Leseprobe
Table Of Contents
Declaration Of Originality
Executive Summary
Acknowledgements
Table Of Contents
Table Of Figures
Table of Tables
Chapter 1: Introduction
1.1 Intro
1.2 Introducing The Protagonists
1.2.1 What Is Interactive Television?
1.2.2 Internet - Some Facts And Figures
1.2.2.1 Medium Internet
1.2.2.2 Penetration And Growth
1.2.2.3 Access Devices
1.2.2.4 Commerce
1.3 iTV Might Have An Impact On The Internet World
1.4 Objectives And Scope Of The Study
1.4.1 Principal Aims
1.4.2 General Limitations
1.4.3 Geographical Scope
1.4.4 Technological Scope
Chapter 2: Secondary Research
2.1 Introduction
2.2 Characteristics And Features Of iTV
2.2.1 Broadcasting And Interactivity
2.2.1.1 Television Transmission Technologies
2.2.1.2 Digital Broadcasting
2.2.1.3 Interactivity - The Return Path
2.2.1.4 The Set-Top Box
2.2.2 Interactive Services Offered Via Television
2.2.2.1 Enhanced Television (ETV)
2.2.2.2 Interactive-Television (iTV)
2.2.2.3 TV-Based Web Access
2.2.2.4 The TV Portal – The Viewer Interface
2.2.3 Summary
2.3 The Future Of Interactive Digital Television In Europe
2.3.1 The TV Landscape In Europe - The Transition To Digital Has Begun
2.3.1.1 Take-Up Rates For Technology
2.3.1.2 The Present Situation Of The European TV Market
2.3.1.3 Take-Up Considerations For DTV
2.3.2 The Step From DTV To iDTV
2.3.2.1 Not All DTV Is Interactive
2.3.2.2 Current And Forecasted Penetration Rates Of iDTV In Europe
2.3.3 Summary
2.4 Interactive Digital Television And The Internet
2.4.1 Threat Of Cannibalization
2.4.2 Internet On TV
2.4.2.1 TV vs PC
2.4.2.2 The Walled Garden
2.4.3 Touch Points Of iDTV And The Internet
2.4.3.1 Access
2.4.3.2 Advertising
2.4.3.3 Commerce
2.4.3.4 Content
2.4.4 Summary
Chapter 3: Methodology
3.1 Introduction
3.2 Choice Of Method And Approach
3.3 Collection Of Data
3.3.1 Secondary Research
3.3.1.1 The Research Process
3.3.1.2 Sources Used
3.3.2 Primary Research
3.3.2.1 Selection Of Method
3.3.2.2 Obtaining The Data
3.4 Processing And Analyzing
Chapter 4: Primary Research
4.1 Introduction
4.2 Expert Interviews
4.2.1 Interview 1:
4.2.2 Interview 2:
4.2.3 Interview 3:
Chapter 5: Conclusion
5.1 Introduction
5.2 Key Findings Of The Study
5.2.1 The iDTV Market In Europe
5.2.2 TV-based Internet Access
5.2.3 Implications For The Internet World
5.3 Recommended Strategies For Internet Players
6 Appendices
6.1 Appendix 1: DTV Adoption Rates In Europe
6.2 Appendix 2: Glossary Of Terminology
7 List Of References
Executive Summary
With the recent emergence of Interactive Television (iTV) in Europe, the TV set will rival the PC as an interface for interactive services in the European home. According to a study by The Yankee Group, Digital TV will even surpass PC-based Internet penetration in Europe by 2005 with 81.2 million households having TV-based interactive services compared with 80.6 million PC-based Internet households.
The purpose of this report is to look at the current situation and future prospects of Internet provision via TV in order to then identify possible changes within the traditional Internet world. Based on these findings, the study will give recommendations to Internet businesses regarding the appropriate choice of strategies to be pursued. In a first step, however, this report will introduce Interactive Television (iTV) and sum up its current and predicted market situation in Europe.
As to the methodology used in this study, secondary and primary research was carried out. Most existing data could be drawn from comprehensive and well-researched sector reports written by specialized market research firms and investment banks. In order to evaluate and complement these secondary findings, primary research was conducted in the form of individual expert interviews, carried out at the Swedish Internet consultancy IconMedialab.
Interactive Television is set to become a market reality in Europe throughout the next five years. Especially the transition from analog to digital broadcasting - the prerequisite for interactivity on TV - is gaining momentum due to the fact that most European countries fixed a deadline for switching off analog transmission at the end of this decade.
TV-based Internet will be fundamentally different from the PC-based web experience, since it will have to adapt to the technological and usage-related peculiarities of the TV set. Free and unrestricted web browsing will not be seen on a broad scale in the foreseeable future, since the technology is not yet up to the task. Further, TV broadcasters will strive to keep their subscribers in proprietary, interactive environments (walled gardens) in order to maximize the value per user. Therefore, iDTV will not drive many new consumers to the World Wide Web.
Looking at the traditional Internet world, the sectors "access" and "commerce" will be among the most impacted ones, since TV broadcasters will enter the ISP (Internet Service Provision) market. Further, they will gain protected access to the bundled buying power of the TV mass market by the help of walled garden environments.
Consequently, iDTV will not drive many new customers to the Internet. E-businesses operating in Europe will therefore have to address iDTV platforms besides the PC, approaching it as complementary rather than competitive channel.
This report consists of five chapters. Chapter 1 provides an introduction to Interactive Television and the Internet and states why the Net on TV stands the chance to influence the PC-based Internet world. In Chapter 2 a detailed picture of Interactive Television and its features is created. Further, the European TV landscape is analyzed, looking at the current situation and future prospects of Interactive Television. After an assessment of the implications of TV-based Internet access, possible changes in the traditional Internet world are indicated. Chapter 3 outlines the methods used for the information gathering process of the primary and secondary research. Chapter 4 complements and evaluates the information stated in Chapter 2 with insights obtained from three industry specialists. Finally, Chapter 5 summarizes the key findings of this report and gives recommendations to Internet ventures regarding the appropriate choice of strategy in order to exploit the opportunities arising from iDTV.
Acknowledgements
I would like to express my gratitude to IconMedialab in Barcelona, Spain, for offering me the opportunity to complete my second industrial work placement with them, for it was there where the idea of writing about interactive digital TV originated.
In particular, special thanks go to Maximo Castagno from IconMedialab Barcelona, as well as to Troels Gran and Torsten Hvas from IconMedialab Denmark for offering their time for the expert interviews and for providing me with helpful information.
Additionally I would like to thank my tutor, Mr. Hong Woo, who has assisted me throughout the writing of this report by giving me useful information as well as making very good suggestions.
Thanks to all friends and acquaintances for participating in discussions and for making suggestions.
Lars Kirchhoff
London, May 2001
Table Of Figures
CHAPTER 1: INTRODUCTION
Figure 1-1: Industry Mood
Figure 1-2: What Users Do Online.
Figure 1-3: Activities Replaced By The Internet.
Figure 1-4: Online Households And Penetration, Europe And The US.
Figure 1-5: Total Online Retail Sales, US$ In Billions
CHAPTER 2: SECONDARY RESEARCH
Figure 2-1: TV Transmission Techniques In Europe
Figure 2-2: TV Portal Of The British Broadcaster NTL
Figure 2-3: Consumer Technology Adoption
Figure 2-4: Penetration Of DTV In Western Europe In Percent, 2000 vs. 2001
Figure 2-5: Penetration Of DTV In Western Europe In Millions, 2001 vs. 2001
Figure 2-6: TV Households In Western Europe, 1999 - 2005
Figure 2-7: Attitude Toward TV Viewing And Internet Usage, 2000
Figure 2-8: The Yahoo Homepage: PC vs. TV Display
CHAPTER 3: METHODOLOGY
Figure 3-1: The Research Chain
CHAPTER 5: CONCLUSION
Figure 5-1: Strategy For Web Ventures: Compete And Complement Via iDTV
Table of Tables
CHAPTER 1: INTRODUCTION
Table 1-1: Outlook On Internet-Enabled Devices In Western Europe
Table 1-2: Profitability Situation Of E-Companies In Thousands US$.
Table 1-3: Current Distribution Of Worldwide iTV Audience
CHAPTER 2: SECONDARY RESEARCH
Table 2-1: Terrestrial, Cable & Satellite TV Penetration In Europe, 1999
Table 2-2: National Dates For The Analog Switch-Off
CHAPTER 3: METHODOLOGY
Table 3-1: The Use Of Keywords For Research
1 Chapter 1: Introduction
1.1 Intro
"Nothing else in the world - not all the armies - is so powerful as an idea whose time has come."
- Victor Hugo -
In the course of the last five years three major technological hypes caused plenty of headlines in business journals all over the world: first was the Internet, completely novel, both as a mass medium and a marketplace. Second, with some delay, was the emergence of the infamous wireless or mobile-era, generally referred to as m-commerce. And most recently, we are looking at the arrival of Interactive Television (iTV).
So far, neither of these hypes made it to live up to the high-flying and often preposterous market expectations. The massive slump in technology and Internet markets worldwide in the second and third quarter of 2000 showed very clearly, how exaggerated and unrealistic many of the forecasts regarding the technology and telecommunication sector actually were. Nonetheless, all these technologies in question do not cease to develop. In the course of time, they gather new momentum and eventually stand the chance to penetrate markets in a more substantial and broader manner, as shows Figure 1-1.
Figure 1-1: Industry Mood
illustration not visible in this excerpt
(Source: Modified from Durlacher, 2000)
This phenomenon equally applies to Interactive Television. It was already back in 1994 that Time Warner conducted an extensive three-year iTV experiment in Orlando, U.S., which finally turned out to be a huge flop. Time Warner eventually acknowledged that its technology at the time was not up to the task. People were offered interactivity, but it was anything but fast, instant and free from errors. (Thal Larsen, P. - 2000)
Apart from these technological flaws, people were not really ready and used to interact with their television in a way other than changing channels with their remote control. However, at the dawn of the 21st century consumers' way of thinking about television has changed considerably compared to six or seven years ago. Many TV networks today encourage their viewers to interact with shows by going on their websites, where they can learn more about the show, view background documents or images. Besides, the learning curve of consumers in terms of dealing with interactivity was enhanced considerably by the increasing use of Internet.
Gradually, the rather futuristic visions of interactivity via television from seven years ago are becoming a market reality - eventually, the time seems to be right for iTV to thrive.
In the following, this chapter will introduce the protagonists of this study, namely Interactive Television and the Internet. Furthermore, it will be stated why iTV stands the chance to impact on the Internet. And last but not least, the objectives and the scope of this report will be mentioned.
1.2 Introducing The Protagonists
1.2.1 What Is Interactive Television?
Since its existence television went through several stages of transformation. Major changes such as the step from black-white to color TV in the 1950s/60s, the invention of the remote control some 15 years later - and even more recently - the transmission via cable or satellite made television what it is today. One feature though - namely genuine interactivity - has not made it so far to enter the TV mass market.
But that is likely to change pretty soon with the take-up of Interactive Television. Due to the low penetration and the lack of a clear picture regarding this fairly novel technology, some descriptive definitions will be provided in the following. The in-depth coverage of iTV, however, will occur in Chapter 2.
According to various industry specialists, iTV is defined in the following ways:
"Any activity in which viewers use a remote to interact with information displayed on a TV screen" (Forrester, 2000)
"Interactive television [can be regarded] as any direct interaction by the viewer that influences program content and delivery, other than basic channel selection" (The Myers Group, 2000)
"Interactive Television is most easily understood as the convergence of Internet like interactivity and traditional television programming and delivery technology. Making TV interactive involves the addition of responsive, user-controlled elements to traditional broadcast video and audio signals. By adding a computer like device to the television set, and providing a communication path back to the broadcaster or 'back channel', the viewer can be invited to interact with the programming and exert some level of control with real time feedback." (Columbia Tristar Interactive, 2000)
"Next-generation broadcasting combines the best of a computer and a television. It sends digitized video signals and delivers them via satellite, cable, or ordinary rooftop antenna. In the home, a set-top box decodes the signals into hundreds of channels. Instead of just allowing one-way traffic, interactive systems let the viewer use a remote control or regular keyboard with an infrared connection to send instructions back to the broadcaster - either through a telephone line or through the cable." (Business Week, 2001)
1.2.2 Internet - Some Facts and Figures
This section aims at giving some basic information on the Internet in order to create the general picture for this report. By no means, the following section claims to be comprehensive but rather focuses on providing the reader with the necessary background for this study. Therefore, this section appears in the general introduction.
1.2.2.1 Medium Internet
Not since television took of in the early 1950's has the world seen such a technological revolution as the Internet. In various forms, the Internet has existed since the late 1960's. But the emergence of the World Wide Web (WWW) in 1991 (Hobbes' Zakon, R. - 2000) transformed the Internet's user-unfriendly environment of mere spreadsheets and databases into a fertile, living-color "infosphere". Up to the arrival of the first commercial browser software in 1993, the web was mainly conceived as a "scientific data-sharing tool". (Schwartz, E. I. - 1999) But from this moment onwards, everything changed. Web commerce gradually came into place in 1995 and since then, the Web has evolved with unbelievable quickness, achieving mass acceptance much faster than any other existing technology.
A survey conducted by America Online/Roper Starch in 1999, revealed that 77 percent of the online population believe that being online has made their lives better and 80 percent say it makes many activities easier and more convenient such as keeping in touch with friends and family, getting information to make better buying decisions or trading stocks, for instance. (CyberAtlas A, 2000) The interactive medium has penetrated users' everyday lives so much that two-thirds would prefer an Internet connection - if stranded alone on an island for an extended period of time - over a television or telephone, the study found. Moreover, 7 in 10 adults think going online is important for children, and almost half of those surveyed believe it has a more positive influence on their children than watching television.
Figure 1-2 states what people use the net for when online. Figure 1-3 below shows in what way Internet impacts the use of other traditional media.
Figure 1-2: What Users Do Online.
illustration not visible in this excerpt
(Source: eMarketer, 2000)
Figure 1-3: Activities Replaced By The Internet.
illustration not visible in this excerpt
(Source: BCG, 2000)
1.2.2.2 Penetration And Growth
According to a report by eTForcasts the number of Internet users worldwide reached approximately 375 million at the end of year 2000 (eTForcasts, 2000). The lion's share of global browsers is still held by the North American region - amounting to roughly 150 million. Second is Europe (West and East) with an estimated 96 million net users, and third comes in Asia-Pacific, counting approximately 58 million unique net users (Noto, A - 2001). Together, these three regions account for over 80 percent of the global online population, leaving other parts in the world, such as Russia, Middle East, Africa and South America far behind.
Due to North American household penetration rates in excess of 50 percent, growth in Internet users slows down gradually and shifts away to other regions. Especially, in Asia-Pacific, a skyrocketing surge in net users is looming. China alone - with currently 16 million browsers - is expected to catch up in numbers with the U.S. in 2005 (eTForcasts, 2000) surpassing the "200-million-borderline" by then.
Europe - the second Internet consumer industry in the world at present - will continue to experience a rise in web penetration, too, even though growth rates vary greatly across the region due to differing levels of penetration. The lowest growth rates will continue to be seen in the Scandinavian markets, where the consumer Internet is most advanced. According to Datamonitor, the Spanish market grew by 85 percent during 2000, three times as quickly as in Sweden, which grew by just 28 percent. (CyberAtlas B, 2000). Altogether, Europe is expected to grow faster than North America. The CIA (Computer Industry Almanac) predicts that Europe will close the gap to the U.S. by 2005, attaining more than 200 million Internet users (CyberAtlas B, 2000). In Figure 1-4, Jupiter forecasts a similar assimilation trend in Internet penetration regarding the US and Europe.
Figure 1-4: Online Households And Penetration, Europe And The US.
illustration not visible in this excerpt
(Source: Jupiter, 2000)
1.2.2.3 Access Devices
To date, accessing the Internet is still widely associated with using a personal computer linked up with a dial-up modem or a local area network, usually dependent on whether access occurs at home or at the office. The fact, that the PC was and still is the predominant interactive platform, initially inhibited a faster penetration of Internet into private homes due to the relatively high demands as to technological and computer-related know-how. But things changed - technology made huge progress in terms of usability, handling and implementation (plug-and-play standards, for instance) and consumers gradually got used to dealing with this new medium.
According to Edwin van der Harst, senior analyst at Forrester's European headquarters, the spread of home PCs will reach 61 percent of European homes by 2005. Further, he expects Northern Europe to continue to lead in PC adoption. Therefore, he anticipates no major changes regarding the North-South technology gap: "Almost half of consumers in the Mediterranean region still won't have a PC at home in 2005, versus more than two-thirds of consumers now. These markets will remain four years behind the UK and Germany, and more than five years behind the Nordic markets." (CyberAtlas C, 2001)
However, while most of Europe lags far behind the U.S. in terms of PC penetration (Scandinavia is the exception), European developments on alternative interactive platforms such as mobile phones and iTV are far ahead of those in the US and stand the chance to alter the old PC-based Internet economy. Table 1-1 depicts the forecasted development of internet-enabled devices in Western Europe, stating that wireless and television web access will surpass the PC rather sooner than later.
Table 1-1: Outlook On Internet-Enabled Devices In Western Europe
illustration not visible in this excerpt
(Source: Jupiter, 2000)
1.2.2.4 Commerce
With the increasing growth of the Internet, companies discovered this electronic realm as an entirely new marketplace without borders. Gradually, the Internet Economy force has become an integral part of many western economies, creating jobs and increasing productivity in companies across all sectors. The impact goes far beyond "dotcoms", as Internet Economy forces are transforming traditional companies and jobs equally. Not surprisingly, as of June 2000 more than 400,000 companies had an online presence designed for web commerce. (PriceWaterHouseCoopers, 2000)
In 2000, the Internet Economy generated an estimated $830 billion in revenues, a 58 percent increase over 1999. (Andrew Whinston, 2001) Net profits in e-commerce for the year 2000 reached $132 billion worldwide, double the $58 billion reported in 1999. (eMarketer A, 2000) One very important development favoring e-commerce's growth was and still is the shift away from informational websites to transactional ones.
No doubt, Internet has become an indispensable revenue stream to every firm that has entered the E-conomy - generating one in every five U.S.$ in revenue. (Whinston, A. - 2001)
As to business volume, medium-sized companies that conduct business online were the most successful in 2000 according to a worldwide study by ActivMedia Research. 61% of companies with revenue between $100,000 and $999,000 reported profitability. Smaller-sized businesses, generating between $10,000 and $99,000, came in second to their slightly larger counterparts with 57% showing profitability.
Table 1-2: Profitability Situation Of E-Companies Ranked By Turnover In Thousands US$.
illustration not visible in this excerpt
(Source: ActiveMedia Research, 2001)
However, there are some indicators that e-commerce has still not attained mass-market dimensions. The NRF/Forrester Research Online Retail Index stated in Figure 1-5 reported a 51% sequential decline in online sales from December 2000 to $3.0 billion in January 2001, after a 4% sequential decline from November to December - the two strongest months due to Christmas sales. Online sales only rose 9% year over year from $2.8 billion in January 2000. (Noto, A. - 2001)
All this shows, that online sales in general are still very volatile and unreliable. They are susceptive to declining adoption rates, seasonality, and a slower consumer-spending environment. In particular, the three strongest barriers, namely price, security and ease of navigation, prevent the transition of e-commerce to a mass market. (Whinston, A. - 2001)
Figure 1-5: Total Online Retail Sales, US$ In Billions
illustration not visible in this excerpt
(Source: NRF/ Jupiter, 2001)
Finally, the failure of some highly publicized "dotcoms" such as Boo.com (clothing), eToys.com and Pets.com during quarter two and three in 2000 put a sudden end to the irrational hype about the New Economy. (Der Spiegel, 2001) Since then, Internet is increasingly becoming part of the basic business model for many traditional companies, representing nothing more than an additional channel for sales and marketing and not an entire business in itself. This will lead to the day when there will be no separate measure of the Internet Economy.
1.3 iTV Might Have An Impact On The Internet World
Interactive TV is a swiftly growing reality in most major European markets. With the recent rise of Internet services on mobile phones, futuristic visions of a networked economy are about to become a market reality in Europe. The emergence of these new interactive platforms is therefore likely to entail consequences for the old PC-based Internet economy.
In particular, the adoption of iTV has and will continue to benefit from an already high installed base - 94 percent of European households already have a standard TV , more than twice the figure of installed PC and modem combinations in Europe. (O'Donovan, P. - 2000)
Besides, as Internet increases its importance in every-day life, there is a potential for services, which enable interactivity and Internet access through the television set. iTV opens up opportunities for Internet ventures not only by bringing a new channel directly into consumers' homes for products and services, but also by creating new products and services to sell to current customers and those who are not reachable through an online PC yet.
Altogether, iTV stands the chance to influence the existing PC-based Internet world in both a creative and disruptive fashion. In the short and medium term, market researchers claim that iTV is expected to have a greater influence on the Internet than any other existing technology, and is likely to affect the web across all sectors.
1.4 Objectives And Scope Of The Study
1.4.1 Principal Aims
The purpose of this report is to look at the current situation and future prospects of Internet provision via TV in order to then identify possible fields of change within the traditional Internet world. Based on these findings, the study will give recommendations to Internet businesses regarding the appropriate choice of strategies to be pursued. In a first step, however, this report will introduce iTV and sum up its current and predicted market situation in Europe.
1.4.2 General Limitations
This study will focus on how Internet provision via TV will develop and how this in turn might influence the Internet world. However, the impact of media streaming technologies, bringing the TV to the Internet, will not be considered.
1.4.3 Geographical Scope
Contrary to the global and standardized character of the Internet, interactive services on television still vary greatly from region to region due to different types of transmission platforms used by local broadcasters, varying preferences for software standards and huge gaps as to roll-out of cable and satellite networks.
For the following reasons this study focuses merely on the European iTV market:
- As stated in table 1-3, Europe currently holds the biggest stake with over 60 % of the 38 million iTV users worldwide according to Strategy Analytics. (CyberAtlas D, 2001)
Table 1 - 3 : Current Distribution Of Worldwide iTV Audience
illustration not visible in this excerpt
(Source: Strategy Analytics, 2001)
- In 2000, 12 million of Western Europe's 149 million TV households were already digital - a decisive factor when it comes to upgrading plain television to iTV. (Yasskin, N. - 2000)
- Contrary to the U.S. iTV market, there is fierce competition due to an elevated number of players in the European interactive TV space. Needless to say, that all three of the existing TV platforms - terrestrial, satellite and cable - have launched digital services commercially in at least one European market. (Card, D. - 2000)
- Europeans have an enhanced level of interactive experience with their television compared to other TV audiences in the world due to the existence of the unique Teletext system in which pages of text are broadcast alongside a TV signal. (Card, D. - 2000)
The above key facts currently classify Europe as the most advanced and promising market in the world in terms of interactive TV services. Therefore, Chapter 2 will provide a closer look at the European TV market in order to analyze the present situation as well as the opportunities of iTV becoming a mass-market reality in Europe.
1.4.4 Technological Scope
This report will take a glance at the different TV transmission techniques currently used. Further, the importance of digital broadcasting to iTV will be explained as well as the establishment of interactivity on a TV set. The discussion of the various software platforms and standards necessary to provide iTV will not be subject of this study, since this field is and will be in a process of continuous change until a general standard will emerge.
2 Chapter 2: Secondary Research
2.1 Introduction
The subsequent chapter is based on secondary data research and is subdivided into three main sections. Firstly, a more detailed picture of Interactive Television as such will be created. Secondly, the European TV landscape will be analyzed in order to then look at the current situation and future prospects of iTV. Thirdly, after having assessed the implications of TV-based Internet access, possible changes in the traditional Internet world will be indicated.
2.2 Characteristics And Features Of iTV
This section will give the reader an idea of how the interactive content provision via TV will be rendered possible and what devices will be needed therefore. Furthermore, a closer glance will be taken at interactive offerings as well as practical interactive services via television.
2.2.1 Broadcasting And Interactivity
2.2.1.1 Television Transmission Technologies
At present, three mass platforms exist to transmit signals to a television household:
Figure 2-1: TV Transmission Techniques In Europe
illustration not visible in this excerpt
illustration not visible in this excerpt
illustration not visible in this excerpt
(Source: McKinsey, 2000)
As to the current broadcasting landscape in Europe, terrestrial television is the predominant platform with 51 %, second is cable with 31 % and satellite accounts only for 18 %. (Card, D. - 2000)
However, a fourth platform for TV transmission is about to emerge. The enhanced exploitation of current copper telephone lines by digital compression technologies such as DSL (Digital Subscriber Line) or the pending rollout of new fiber-optic networks by telecommunication companies promise high potential in terms of bandwidth - allowing for full video and sound transmission. (Scaffidi, G. J. - 2000) Due to the low DSL penetration rates in Europe so far, this technology will not be picked up in this report.
2.2.1.2 Digital Broadcasting
At present the general notion "Digital Television" or DTV is frequently used with two different meanings that are quite easy to confuse. In one sense, it refers to the digital transmission of television signals by TV operators. But in the other, it means several relatively new TV formats that digitization renders more feasible such as high-definition television (HDTV), doubling the display quality of traditional TV, and Interactive Television (iTV). This report however, will always refer to DTV in the sense of digital broadcasting.
Generally spoken, DTV could be described as the way of storing and broadcasting video and audio signals as a series of 1s and 0s (binary coding) instead of a continuously varying wave, which is the way that traditional, "analogue" television signals are broadcast. (HSBC, 2000)
In the future, the move from an analogue to a digital signal will provide the following main benefits:
- Improved quality of the broadcast signal resulting in an improved picture and sound quality.
- Reduction in the use of the broadcasting spectrum (capacity) as a result of improvements in compression technologies - thereby allowing more channels and services to be broadcast at a time.
- Capability to broadcast computer data and to develop interactive services (of which the latter require a return path).
- Facilitation in storing and re-processing broadcast data and converting it into other formats.
- Mixing of radio, television, text, multimedia programs, the Internet and data.
(McAteer, S. - 1999)
By the means of these technological developments, TV sets will be in the position to offer such features as picture-in-picture, freeze-frame, electronic program guides, automatic tuning and sound-level control as well as Internet connectivity.
To date, even though the transition from analogue to digital broadcasting has begun in most European markets, the majority of the above-mentioned transmission techniques -terrestrial, cable, and satellite - still uses an analogue data signal.
Interestingly, it is common belief, that in order to obtain interactive TV services digital broadcasting is indispensable. This is only partly true. Especially in the U.S. digital AND analogue TV systems are in place to provide interactive services. In Europe, however, digital transmission networks are far more advanced and already enjoy relatively high penetration rates compared to other parts in the world. As a result, European iTV services are exclusively delivered via digital broadcasting - and therefore mostly called "Interactive Digital Television" (iDTV) services. (Engdegård, S. - 2000) Since this report focuses on Europe, the generalizing term iTV will from now on be replaced by the more exact and appropriate notion "interactive digital TV" or "iDTV".
In Europe, industry specialists claim that the emergence of digital broadcasting (DTV) will act as a "Trojan Horse" for interactive features on television, breaking down the barriers between the Internet - traditionally a telecommunications domain - and the traditional media-oriented television sector.
2.2.1.3 Interactivity - The Return Path
Some digital television systems simply involve a viewer receiving a digital TV signal. While this alone already offers substantial advantages as seen above, the real added value comes into being if the digital TV is part of a so-called "online system", which is possible where there is a return path. (HSBC, 2000)
An "online system" is a television set that is connected to the broadcaster or other third parties such as retailers and banks, in such a way that viewers can send messages from their television set. Such functionality allows the viewer to participate in television programs and adverts or to undertake home shopping and banking.
Currently, there are three feasible methods to enable "two-way-communication" on a television set:
The first one consists of the typical coaxial line used by digital cable television. In this case a "physical" connection is already in place, which can be up-graded relatively easy to a 'two-way' connection. The big advantage of this connection type is the extensive capacity in terms of bandwidth, both up- and down-stream, representing currently the most powerful and efficient of all available network technologies.
As a second possible return-path the fixed telephone line of a household can be used. So far, this approach represents the only feasible possibility for satellite and terrestrial broadcasters to enable "up-stream" data traffic, since these transmission techniques lack a "physical" return-path. At present, however, using the fixed copper telephone line of a household is still cumbersome for reasons of limited capacity. Besides, viewers may not want to tie up their phone lines for iTV.
[...]
Details
Seiten

84

Erscheinungsform

Originalausgabe

Jahr

2001

ISBN (eBook)

9783832446222

ISBN (Buch)

9783838646220

Dateigröße

1.1 MB

Sprache

Englisch

Katalognummer

v220234

Institution / Hochschule

Brunel University – International Management

Note

1

Schlagworte