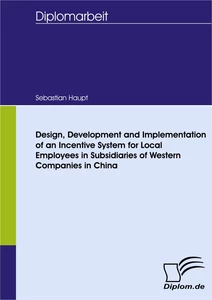 Design, Development and Implementation of an Incentive System for Local Employees in Subsidiaries of Western Companies in China
Diplomarbeit 2006 115 Seiten
Leseprobe
Table of Contents
Table of Figures
List of Abbreviations
1 Incentive systems as key success factors to ensure competitive capability of western companies in China
1.1 The challenge of attracting, motivating and retaining Chinese employees
1.2 Conceptual design of Incentive systems for Chinese employees: Objectives and methodology of the thesis
2 Incentive systems as an instrument to influence the behavior of employees in an international work environment: The theoretical fundamentals
2.1 Incentive systems within management studies
2.1.1 Basic principles of incentive systems and their consideration as an element of strategic leadership
2.1.2 Incentive systems as an instrument of the personnel strategy aiming at the attraction, motivation and retention of employees
2.1.3 Requirements of Incentive System against the background of the personnel strategy
2.2 Theoretical focus on incentives as stimuli of employees' motivated behavior
2.2.1 Incentives: Keynotes and possible classifications
2.2.1.1 Essentials and a basic systematization: Intrinsic and extrinsic incentives
2.2.1.2 A differentiated itemization of incentives according to Steinle
2.2.1.3 The interaction of incentive and motive: A model of performance behavior
2.3 Incentive systems in an international work context: Culture as key influencing variable
2.3.1 Impact of culture on management in organizations
2.3.2 Cultural dependency of Incentive systems
2.4 Sum up: An enhanced model of performance behavior by enclosing the cultural context
3 Literature review on Incentive systems for local employees in Western companies in China: Design of a theoretical research framework
3.1 Incentive systems in Chinese work environments
3.1.1 The design of incentives in China: Status-quo analysis of existing systems
3.1.2 Elements of Western incentive practices in China as a guiding research framework
3.2 The shaping of employees' personality patterns through Chinese culture
3.2.1 The socio-cultural context: The Chinese between Confucius, communism and capitalism
3.2.2 The impact of the cultural aspects on the work values of Chinese employees
3.3 Determination of central motives of Chinese employees by focusing on the needs of the Chinese people
3.4 Incentives stimulating the motivation of Chinese employees: The composition of the core elements
3.4.1 Compensation incentives: Motivational use of material and immaterial stimuli
3.4.1.1 Base salary and bonus payments: The importance of monetary incentives for Chinese employees
3.4.1.2 The motivational relevance of methods of personnel development and promotion on Chinese employees
3.4.1.3 The relevance of operational social security benefits and non-monetary benefits for local employees in China
3.4.2 Institutional incentives: Evocation of motivation from selected elements of corporate culture
3.4.2.1 Fostering satisfaction and performance through public recognition awards
3.4.2.2 Leisure time activities and outings: The effect of enjoying social relationships
3.4.3 Structural and interaction incentives: Work-related motivation and contribution of Chinese employees
3.4.3.1 Motivation of Chinese employees through job design and the use of job diversifying instruments
3.4.3.2 Utilization of employee empowerment and autonomy for Chinese employees
3.4.3.3 The relevance of contribution in the organizational processes for Chinese employees
3.5 The theoretical framework in a recapitulatory overview
4 Qualitative analysis of Incentive systems in subsidiaries of Western companies in China: Practical review and further development of the theoretical framework
4.1 Interviews as an empirical investigation method
4.2 Exploration of cultural aspects in Incentives Systems for Chinese employees in China
4.2.1 Issues of the socio-cultural background as relevant influencing variables
4.2.2 Practical perception of cultural issues for the design of incentive systems in Western companies in China
4.3 Specific motives of local employees and their impact on the design of applied Incentives Systems in Western companies in China
4.4 As-is analysis on the importance of incentive elements for the motivation of local employees in Western companies in China
4.4.1 Compensation incentives: Key elements in the applied incentive systems
4.4.2 Institutional incentives: Important components of incentive systems for Chinese employees
4.4.3 Structural and interaction incentives: Taking up a minor role in practice
4.5 Additional findings on the use of incentive systems for local employees in China
4.5.1 Other components relevant in practice for the performance and satisfaction of Chinese employees in foreign companies
4.5.2 Applied methods of evaluation concerning the effect of the incentive systems
4.6 Reflexion of the qualitative findings: Merging theoretical framework and practical review
5 Recommendations for the implementation of an incentive system for local employees in Western companies in China
5.1 The need for assessing existing incentives used in the subsidiary as a basic step of implementation
5.2 Improving the incentive system through the consideration of culture-based issues
5.2.1 The need for consideration of the cultural context of Chinese employees: Enhancing the cultural awareness of Western managers
5.2.2 Supportive utilization of the Chinese hierarchical focus
5.3 Enhancing the motivation and retention by addressing the motives of Chinese employees: The motive of belongingness
5.4 Appropriate incentive components to ensure an optimum of personnel attracion, motivation and satisfaction within the Chinese work environment
5.4.1 Compensation incentives: The implementation of the core components
5.4.1.1 Applying base salary and occupational promotion as primary motivators
5.4.1.2 The use of performance-related bonuses and external personnel development
5.4.2 Institutional incentives: The implementation of recognition reward programs to praise Chinese employees
5.4.3 Structural and interaction incentives: Job diversification, empowerment and organizational contribution as motivators for a special group of employees
5.5 The need for constant reviews: Adjusting the incentive system within the context of a changing environment
5.6 Résumé: Recommendations for implementing incentive systems aiming at the attraction, motivation and retention of Chinese employees
6 Culture orientation as a major factor for creating a competitive incentive system for subsidiaries of Western companies in China
Bibliography
Appendix
Table of Figures
Figure 1: Incentive systems acting as an intermediary
Figure 2: Incentive groups according to Steinle
Figure 3: Model of performance behavior
Figure 4: The impact of culture on the model of performance behavior
Figure 5: Incentive components relevant for the theoretical research
Figure 6: Chinese hierarchy of needs
Figure 7: Theoretical weighting of the incentive elements for Chinese employees
Figure 8: Overview of the results of the incentive importance evaluation
Figure 9: Overview of the recommendations for an implementation of incentive systems for Chinese employees in Western companies in China
List of Abbreviations
illustration not visible in this excerpt
1 Incentive systems as key success factors to ensure competitive capability of western companies in China
1.1 The challenge of attracting, motivating and retaining Chinese employees
In the last decade, as a result of the advancing globalization, the People's Republic of China (PRC)[1] has become a focus of interest for Western companies.[2] The country is home of 25 % of the world's population and has maintained an economic growth rate of 8 % during the last twenty five years.[3] How can companies position themselves best to profit from this fast-growing economy and prevail against an increasing competition? Along with a massive inflow of foreign investment, Western management practices and philosophies have been brought into China. Thus, every day, foreign managers in subsidiaries of Western companies have to confront decisions about money, benefits and other different forms of incentives that can be used for attracting, motivating and retaining the local Chinese employees to ensure the competitive advantages. The introduction of Western incentive systems in China can be problematic as some Western incentive practices may contradict the norms of Chinese culture and the socialist ideology.[4] Unsurprising that issues of human resource management, particularly in the attraction of employees, the performance motivation and the staff retention, are seen as the main difficulties in the Chinese operations of Western companies.[5] Consequently, the question arises if customary incentive practices that have been proved useful back home can be transplanted to the Chinese subsidiaries of Western companies and if so, how? It is common knowledge that the compensation packages offered by companies to their employees have a great influence on the profitability.[6] The better the foreign managers are able to align decisions about motivational incentives with the challenges presented by the values and the motives of the employees, the likelier it is for the organization to achieve competitive advantages.[7] Thus, especially in the international context the "major limitation of contemporary pay systems is the degree to which individual attitudes and preferences are ignored."[8]
1.2 Conceptual design of Incentive systems for Chinese employees: Objectives and methodology of the thesis
The aim of this thesis results directly from the mentioned problem. On the basis of a literature review that is combined with an analysis of applied incentive systems, it sets out to explore why Western approaches may or may not be applicable in the Chinese context and how foreign firms in China can configure the incentive components for their local employees in order to attract, retain and motivate them. The focus lies on subsidiaries of Western companies in China which comprise both fully foreign owned operations and joint ventures and represent the most popular investment form of foreign companies in China.[9]
In order to provide comprehensive insights on the topic it is necessary to first approach the necessary theoretical fundamentals. Thus, chapter 2 deals with the basic considerations on incentive systems and their application to influence the behavior of employees in an international work environment. The principles of incentive systems within organizations, a classification of possible components as well as their use as behavior influencing stimuli is going to be presented. Subsequently, essential reflections on Incentives Systems in an international work context are made. Chapter three investigates and provides a theoretical design of an incentive system for local employees in China. The framework rests upon a literature review looking at relevant issues of the Chinese cultural background as influencing variables. Based on existing elements of Western incentive practices in China the concept for the design of the core components will be created. For this purpose, a short explanation on each individual incentive is given, the motivational effects from the Western literatures' point of view are outlined and an evaluation of the importance of the individual components is made by means of existing scientific research. Using qualitative interviews, an empirical field investigation has been conducted in 14 subsidiaries in Western companies in China. The objective was to analyze the incentive elements applied in practice in the Chinese work environment in order to further develop the previously designed framework. The corresponding results are presented in chapter four. Finally, chapter five shall give corresponding recommendations for a successful implementation of the incentive system.
2 Incentive systems as an instrument to influence the behavior of employees in an international work environment: The theoretical fundamentals
2.1 Incentive systems within management studies
2.1.1 Basic principles of incentive systems and their consideration as an element of strategic leadership
According to Wild, an incentive system is defined as the sum of all deliberately arranged labor conditions which can on one hand intensify certain behavior patterns through positive incentives and on the other hand reduce through negative incentives the probability that other patterns occur.[10] Incentive systems are also characterized as the sum of material or immaterial incentives granted by the organization and that have a subjective value for the recipient.[11] Smith understands incentive schemes as an example of managerial attempts to use remuneration as a key influence of behavior within the production and the administrative system.[12] Within the business context it is possible to differentiate three levels of operational incentive systems.[13] In an incentive system in the broadest sense behavior influencing stimuli have their source in all intra-enterprise conditions. Hence, the company itself forms a comprehensive incentive system. In a broad sense an incentive system is equivalent to the system of leadership within a company including all relevant managerial subsystems.[14] Thereby the company has an incentive system.[15] An incentive system in a narrow sense comprises time-specific incentive plans that focus individually on employees and that are often confined to material remuneration.[16] According to that, the company applies individual incentive systems. For this work, the focus will lie on incentive systems in a broader sense since that captures all material and immaterial incentives granted by the enterprise to their employees.[17]
As an instrument of human resource management the incentive system is seen as an object of strategic leadership[18] and thus, represents an integral part of the corporate strategy.[19] Its task is to motivate the personnel to show a desired behavior in order to act congruent with specific operational goals.[20] This is achieved by linking compensation practices closely to the long-term strategic business objectives of the organization.[21] Employees are assisted in acquiring desired behavior through the creation of positive or negative rewards for positive or negative behavior, respectively.[22] Subsumed, it can be said that an incentive system acts as an influencing intermediary between the strategic system of leadership and the behavior of the personnel as illustrated in figure 1.
illustration not visible in this excerpt
Figure 1: Incentive systems acting as an intermediary.
Source: Adapted from Becker (2004), p. 17.
Thereby, incentive systems can influence and control the kind and intensity of the employees' behavior in an anticipative and sustainable way by supporting it positively or negatively.[23] Ultimately, the personnel behavior is a vital factor for the strategic success of the enterprise.[24] As an example, changed personnel behavior is expected to improve the production with beneficial effect on output and costs whereas the efficiency in administration is expected to improve with a reduction in overheads.[25]
2.1.2 Incentive systems as an instrument of the personnel strategy aiming at the attraction, motivation and retention of employees
A task of the personnel strategy is the implementation of concepts to externally foster the attractiveness for potentially new staff members as well as to internally enhance the performance and satisfaction of the existing employees through the administration of incentive systems.[26] Relevant criteria for the design of incentive schemes are the guidelines of the personnel policy.[27] Three essential dimensions can be identified in the focus of the personnel policy attaining indirectly the corporate objectives.[28]
The attraction of personnel is related to the attractiveness of the enterprise on the labor market and shall motivate qualified people to join and work for the organization.[29] It is assumed that the organization can affect the attraction rate by offering more valuable incentives,[30] especially monetary ones, since they are understood to be the most obvious and tangible attributes of incentive systems.[31] The attractiveness has thereby to be focused on those individuals who can positively contribute to the long-term growth of the company.[32] The motivation of personnel refers to the motivation of the employees to perform purposeful at a high level. Most organizations would like to employ people willing to perform highly effective in their jobs. They have the goal of maintaining or increasing the profitability by stimulating the performance of their staff members.[33] To be motivated to generate productive performance, among others, employees must experience to derive satisfaction from their salaries and benefits[34] which are offered to the employee in the incentive system. The impact on the performance and satisfaction of the employees differs according to the variety of the components used in the system.[35] The retention of personnel aims at motivating the qualified staff members to stay in the company and have them available during the entire period of working time that has been contractually agreed on.[36] If the incentive system contributes to satisfy the employees in their jobs, it can also have a positive effect on the retention. It is assumed that job dissatisfaction is likely to be followed by a high turnover of staff.[37] In addition, organizations with a high job satisfaction among their staff tend to show a lower rate of absenteeism.[38] In order to achieve this, incentive systems can lead to a positive effect on the attractivity of the job itself and of the organization as a whole.[39]
2.1.3 Requirements of Incentive System against the background of the personnel strategy
In order to reach the previously mentioned objectives of the personnel strategy, the incentive system has to fulfill certain requirements. As a basic postulate, the incentive elements of the system have to be effective, otherwise the effort that is put into designing and offering these ineffective incentives is not justifiable.[40] The system is effective if the subjective expectations concerning the organizational outcome can be answered.[41] The structure of the incentive system significantly determines its effectiveness since only a senseful combination of the individual components gives the system the possibility to act target-oriented.[42] In an international context, the effectiveness also depends on the extend to which the compensation components are compatible to the internal and external conditions of the company.[43] Besides the effectiveness, the incentive system needs to be economically efficient meaning that, from the employer's point of view, the gap between the benefits and the costs resulting from offering incentives should be positive and maximum.[44] In addition, the company has to be able to adjust the incentive system rather quickly to changed requirements and conditions of the environment in order to align the employees' behavior to the new situation.[45] It has to be sufficiently flexible to react to the individuals' preferences that can differ strongly from employee to employee[46] and to the increasing value shift that is prevalent in the industrial societies.[47] Furthermore, a flexibility to adapt the system to changes in the internal organizational conditions is necessary since modifications in structures and strategies remain ineffective if they are not supported by corresponding incentives.[48] From the employees point of view consistency is an additional demand on incentive systems. It refers on the one hand to the internally perceived fairness of an employee's ratio between input and outcome and on the other hand to the external fairness on how is decided about the compensation by the management in relation to other enterprises.[49] In the short term, a perceived internal inequality leads to a reduction of the employee's contribution to the company's objectives through a decrease in satisfaction and performance[50] as well as resignation.[51] A persistent perception of an external equity can result in the migration of qualified staff to enterprises with a more attractive incentive system.[52]
2.2 Theoretical focus on incentives as stimuli of employees' motivated behavior
2.2.1 Incentives: Keynotes and possible classifications
2.2.1.1 Essentials and a basic systematization: Intrinsic and extrinsic incentives
Generally, incentives are defined by Wälchi as situational conditions providing a demand for a particular course of action as a result of a given structure of motives.[53] The perception of the situational conditions arouses a specific behavior of individuals or groups[54] and activates motives that focus the behavior towards a conformance of these motives in order to satisfy particular needs.[55] According to Klinger, an incentive describes an object or event that attracts a person to pursue that same object or event.[56] In an organizational business context incentives are the compensation granted by the organization to its member for the willingness to provide individual contributions like time, energy and other resources for the organization.[57] They can be identified following different criteria.[58]
A common approach is the concept of intrinsic and extrinsic incentives.[59] Intrinsic incentives stem directly from the activity of the task itself, giving satisfaction or dissatisfaction to the individual.[60] The respective individual has internalized standards in order to be rewarded for the success internally by himself.[61] The desire for performance, for contact and the motive of self-actualization are examples for motives activated by intrinsic incentives.[62] Extrinsic incentives are less job-dependent and rather refer to working conditions.[63] They are regarded as instruments to satisfy extrinsic needs[64] such as income, striving for extra benefits, security, career and status.[65]
The extrinsic incentives can be divided further into material and non-material rewards. Material incentives comprise financial and non-financial incentives.[66] The fixed and variable remuneration as well as the quantitative companies' social benefits are summarized as financial incentives. Ranked among the non-financial incentives are all benefits in money's worth like qualitative social benefits and benefits in kind such as company cars. Beyond these direct compensation aspects non-material incentives also consist of elements like career opportunities, the design of jobs and tasks, corporate culture and possibilities of participation.[67] Hence, they can be seen as all operational stimuli which do not lead to a direct outflow of money from the enterprise to the employee.[68] However, it is not possible to draw a clear distinction between the different types of incentives as they go hand in hand and depend on the subjective consideration of the individual.[69] An occupational career for example is rather seen as an immaterial incentive even though the advancement is normally accompanied by a higher income.[70]
2.2.1.2 A differentiated itemization of incentives according to Steinle
An organization has various incentives that can be used to induce the employees to contribute with a desired behavior to organizational endeavors. As a result of the complexity of the available varieties of incentives, Steinle uses a leadership-theoretical perspective to identify behavior-affecting groups of incentives.[71] The following illustration provides an overview of the relevant groups:
illustration not visible in this excerpt
Figure 2: Incentive groups according to Steinle.
Source: Adapted from Steinle (1991), p. 814, and Steinle (1993), p. 159.
Compensation incentives: First of all, the compensation incentives can be split up into material compensation and non-material compensation.[72] Pay, as part of the material compensation, is understood to be an important motivator and has a positive impact in order to arouse specific performance.[73] In addition, money can be used to acquire status symbols[74] or to give a feeling of security.[75] Other material incentives are special monetary bonuses and social security benefits . The non-material compensation can cover the training of the personnel, career opportunities and social prestige.[76]
Institutional incentives: These incentives focus on motivational aspects of the corporate culture and ethic as well as principles of leadership.[77] As a set of values which the employees recognize and are committed to, they stand for more than visible features and symbols[78] and also represent distinguished practices, principles and beliefs within a particular organization.[79] These issues of corporate culture can be maintained through aspects organizational socialization and can cover motivational aspects like the work atmosphere[80] and the recognition of employees who have done their job well.[81]
Structural incentives: This group covers incentives that are work-related and can comprise the job design, the distribution of competences as well as corresponding forms of responsibility.[82] Giving challenging work and responsibility to the employee is considered to have significance for the motivation.[83] Thus, companies apply measures of empowerment and job diversification with the intention to arrange the job content in a motivating and rewarding way.[84]
Interaction incentives: The interaction incentives focus on the process of interaction between the leader and the follower. They relate to the establishment of an internal culture of cooperation and cover incentives like decision-making and workers' participation.[85] Therefore, the allowances of the supervisor that the members of the workforce can make contributions to company-related issues form part of the interaction incentives.[86]
2.2.1.3 The interaction of incentive and motive: A model of performance behavior
Besides the fact that employees have to be endued with job-relevant abilities and knowledge to act purposive, a general state of willingness to perform has to exist.[87] This willingness is often referred to as motivation. According to Locke, motivation arises from an interaction between the personality of the individual employee and the incentives as external inducements to action, with the personality reflecting the individual's needs, motives and values.[88] By offering incentives, a certain constellation of stimuli is perceived by the individual, evaluated according to the strength of the stimulus and transformed into motivational behavior.[89] This interdependency can be structured in a model of performance behavior as shown in figure 3.
illustration not visible in this excerpt
Figure 3: Model of performance behavior.
Source: Adapted from Steinle (1978), p. 49.
Performance efficiency and satisfaction are provoked through the activation of the motives and values as well as by meeting the needs of the employee through the reaction of the surrounding situation.[90] In a work environment, the situation represents the incentives that are provided by the company[91] and anticipated as a reward by the individual.[92] A performance stimulus, which is connected to the expectations of the individual, is the result of the interaction between the incentives granted to the employee and his corresponding personality. The performance stimulus leads to the performance intention and results, via the performance activation, in an outcome. The performance activation is modified by the capability of the employee to perform.[93]
As a consequence, the outcome produces direct and indirect results.[94] On the one hand, as a direct result, satisfaction arises from the individual evaluation of the outcome. On the other hand, the external valuation, in the form of a comparison of the standard of performance and the achieved outcome, leads to the determination of the performance efficiency or productivity.[95] The performance efficiency provides the basis for the granted rewards. In addition to the evaluation of the outcome, the type and extend of the reward, may it be material or immaterial rewards, affects the satisfaction. Behavior successfully satisfied by a reward will be repeated, while non-rewarded behavior leads to dissatisfaction and discouragement. The achieved satisfaction modifies the type and intensity of the individuals' expectations.[96] Similarly, the level of performance efficiency in turn alters the type and magnitude of the incentives that are utilized to induce employees to contribute their behavior and performance to the attainment of organizational goals.[97]
2.3 Incentive systems in an international work context: Culture as key influencing variable
2.3.1 Impact of culture on management in organizations
To understand how the performance behavior and in this connection incentive systems are determined in an international work setting, the construct of culture and its impact on management has to be regarded. The term culture has been defined in a variety of ways. Hofstede defines culture as "the collective programming of the mind that distinguishes the members of one group (…) of people from another."[98] This definition covers the four central elements of culture, symbols, ritual, heroes and moral concepts that were defined by Hofstede.[99] Ferraro describes culture as "everything that people have, think and do as members of a society."[100] Thereby, he refers to the major socio-cultural components of a country such as ideas, values, attitudes and normative patterns of behavior of individuals in a society.
It has been found that a variety of management practices, including human resource management, differ by national culture.[101] Culture and country-specific institutions tend to influence the management in organizations on different levels[102] and hence, a consideration of both the internal and the external setting of the company is required.[103] The internal environment of an organization and the managerial practices are represented by the corporate culture.[104] The corporate culture in turn is subject to an influence by the socio-cultural and -political factors in the country-specific environment.[105] Moreover, managerial practices are based on assumptions on one of the fundamental organizational elements: the employee.[106] Since organizations draw their human resources from the external setting, especially the socio-cultural rooted needs, wishes and capabilities of the staff members are highly relevant.[107] The influence of these cultural issues has pervasive effects on matters concerning the management and staff[108] and becomes especially apparent when dealing with the workplace performance.[109]
In several studies, the literature tried to identify and operationalize the constructs of cultural values and attitudes as quantitative dimensions for the managerial work-related use.[110] Hofstede/Bond for example conducted a study identifying the four dimensions power distance, uncertainty avoidance, individualism and masculinity and included the cultural effect of Confucian dynamism in China.[111] It has been found out that, for example, societies high in uncertainty avoidance can be considered to be risk aversive and their employees are less likely to be given autonomy in their jobs.[112] A high power distance influences the perception of status, leading to a high amount of formal hierarchy and low participation in decision-making.[113]
2.3.2 Cultural dependency of Incentive systems
The scientific literature predominantly agrees on the assumption that the motivational effect of incentives is to a certain degree bound to cultural perceptions.[114] Culture can influence the effectiveness of an incentive system in at least three ways. First, in order to evoke a desired behavior of the employees, an incentive system has to be constructed to satisfy the needs and motives of the staff members.[115] But, "what is rewarding to different people varies greatly depending on their background, expectations, values and needs. (…) The importance of (…) rewards to individuals affects their motivation, productivity, and satisfaction."[116] The values, motives and needs are determined by the personal socio-cultural environment of the individuals'.[117] Even though these aspects may well consist of universal aspects across cultures, their importance for the individual and the way they express themselves are likely to vary.[118] Hence, the cultural environment of the individual influences the perception of which incentives are seen as adequate by the employee.[119] The varying preference for different ways of financial compensation, like performance-oriented of fixed payments, for example is induced by socio-cultural factors.[120] Second, incentive systems are understood as processes of influence of the management on the employees. Their effectiveness is depending on the institution that is composing the incentives,[121] particularly the system of organizational strategic leadership.[122] Organizational strategies and structures are also dominated by matters of cultural parameters.[123] For the consideration of the incentive system in an international context, this indicates that cultural assumptions do not only affect the recipient of the incentives by constituting the motives but is also conditional to the style of leadership of the manager designing the system.[124] Third, the evaluation of the outcome that is causing satisfaction as well as the external the valuation interfere and depend on culture since the judgment of values and the individual perception of the outcome are reflected by the individual's socio-cultural environment[125] As a result of these considerations, it is assumable that neither the employees nor the management in different cultural environments have similar preferences and perception for effective compensation components in enterprises. Hence, an incentive system proved useful in one nation may not be equally successful in another country[126] and the success of the system significantly depends on the fit between the incentive strategy and the environmental conditions of the company.[127] These considerations point out that an incentive systems can be seen as a measure of the management that is dependent on culture.[128] That shows the significance to understand the perception of incentive systems within a multicultural framework.
2.4 Sum up: An enhanced model of performance behavior by enclosing the cultural context
The previous section introduced incentive systems as an intermediary between the strategic system of leadership and the personnel with the goal to influence the employees' behavior towards the realization of the company's objectives. Therefore, it is used by the human resource management to improve the attraction, motivation and retention of employees and aims at fostering their performance and satisfaction. After a general classification into extrinsic and intrinsic incentives a more differentiated segmentation has been presented. Subsequently, the way how incentives affect the employees' behavior has been explained with Steinle's model of performance behavior. It was described as an instrument influencing the performance of the employees by offering incentives as stimuli to activate motives. These motives as well as the assessment of incentives are determined by the personality of the individual.
The last two sections of the chapter were dedicated to the impact of culture on management and explicitly incentive systems. They have shown that on the one hand the personal values, needs and motive as well as the perception of the incentives and on the other hand the kind of incentives that are offered are depending on the cultural context. Hence, in the context of this thesis it is necessary to enhance the previously outlined model of performance behavior by enclosing the international perspective and embed the most relevant parts[129] into the cultural context as illustrated in figure 4.
illustration not visible in this excerpt
Figure 4: The impact of culture on the model of performance behavior.
Consequentially, an incentive in one culture will not have the same effect in some other culture.[130] That leads to the consideration that incentive systems are hardly transferable across national and cultural boundaries. Thus, it is assumable, that Chinese employees in Western subsidiaries in China can only be stimulated and motivated by an incentive system that reflects their cultural attributes.[131] Due to this, not only the design of the individual incentive elements will be on the fore in the course of this paper, but also possible cultural aspects of the Chinese environment that may affect the system have to be regarded.
3 Literature review on Incentive systems for local employees in Western companies in China: Design of a theoretical research framework
3.1 Incentive systems in Chinese work environments
3.1.1 The design of incentives in China: Status-quo analysis of existing systems
In the course of the literature review for this diploma thesis, it has become apparent that very little research seems to have been conducted to investigate the various incentive systems and the importance of the individual components employed by Western companies on their employees in the People's Republic of China.[132] As mentioned before, the salaries in China were mostly egalitarian with a narrow range of variation in times before the economic reform.[133] Today, especially Western companies seem to operate differential salary systems.[134] Additionally, performance-related bonuses are offered in Western influenced enterprises, even on a monthly basis.[135] The wage level of the foreign company in China is approximately 120 % to 150 % compared to that of a similar local state-owned firm operating in the same line of business sector and same locality.[136]
In China, the social welfare benefits of the enterprises mainly seem to resemble those in most Western countries.[137] It is difficult to provide a comprehensive overview of welfare provision in China since it lacks uniform national provision as regions today have been required to implement their own systems.[138] The system encompasses different insurances for health care, unemployment and maternity as well as various pension schemes and funds for social assistance, activities, staff quarters and housing.[139] Foreign enterprises acting in China are obliged to train their staff in vocational skills.[140] Hence, most foreign firms have formalized training programs in place, either internal or external. The measures comprise class-room based forms or on-the-job styles of training as well as training assignments abroad.[141] In contrast, no information on personnel training in local Chinese enterprises was found during the literature research, whereas in Western companies in China a great emphasis is often placed on promotion especially of non-management workers.[142] However, no insights on the design of promotion methods in particular were available. Likewise, the literature does not enclosure information about corresponding methods in Chinese enterprises.
Further, foreign companies use staff outings and company organized sport activities as motivators[143] but there was no such evidence for local Chinese enterprises. In the past, the appointment of role model workers has been traditionally used as a spiritual incentive and public acclaim for outstanding performance.[144] Those performance awards became even more popular when they were regularly combined with a team approach.[145] Thus, such group awards, for example for excellent teams or enterprises, have been used in China as an instrument of praise for work groups or firm organizations with a good performance.[146] Within the limits of the literature research that was conducted for this paper thesis, no other reliable information have been found on existing incentive systems in China either on their application in local enterprises or foreign-invested companies.
3.1.2 Elements of Western incentive practices in China as a guiding research framework
As the last section revealed, the scientific literature appears to be a rather empty field of research concerning the design of incentive systems for Chinese employees. Consequently, it seems to be useful to follow existing organizational approaches and focus directly on organizational incentives and motivational methods that are taken into Western subsidiaries in China by the foreign managers. Many different forms of incentives systems are utilized around the world to attract, motivate and retain employees in order to achieve the company's objectives.[147] Hence, the literature holds several suggestions of important incentives[148] that would have to be considered for the qualitative research in the course of this thesis.
An earlier study on Western approaches on motivating Chinese employees in foreign companies in China has been conducted by Jackson/Bak. Different from other studies, which have been found during the literature research ahead of this paper, it focuses on a rather comprehensive collection of motivational techniques and methods that are actually employed in practice in China.[149] Therefore, typical elements of Western incentive systems in China identified by Jackson/Bak, are able to provide a suitable framework guiding the investigation for the present thesis. Figure 5 illustrates the relevant incentive components separated into the groups that were classified earlier in Chapter two.[150]
illustration not visible in this excerpt
Figure 5: Incentive components relevant for the theoretical research.
It becomes apparent that the compensation incentives cover the majority of the incentive components which are used in China according to the literature. Before regarding the specific elements it has to be dealt with the previously mentioned impact of cultural issues on the incentive system.
3.2 The shaping of employees' personality patterns through Chinese culture
3.2.1 The socio-cultural context: The Chinese between Confucius, communism and capitalism
The personality of the Chinese people and their values seem to be strongly driven by the Chinese culture which has been shaped mostly by three ideologies: Confucianism, socialism and capitalism. The Confucian ideology is rooted in the Chinese culture since the 5th century B.C. and although it was abolished at the turn of this century, it still has fundamental and prevailing influence on the Chinese social patterns, which finds its expression in the belief in an authoritarian system.[151] Confucianism sets out pragmatic guidelines featuring aspects like hierarchy, collectivism, face and harmony.[152] In the Confucian paradigm social status is considered to be respectable, entailing a high level of power distance with regard for age as a source of authority.[153] Thus, Bond characterizes the Chinese culture and society to be a highly hierarchic community.[154]
Furthermore, China can be seen as a collectivistic country, in which people are integrated from birth until death into strong cohesive groups.[155] That corresponds to the Confucian beliefs, where individuals are perceived as part of a network of social relations like the family.[156] These social relations also manifest themselves in the concept of guanxi,[157] a powerful and important complex of networks, personal connections and interpersonal relationships that affects the society.[158] The critical role of maintaining harmony is commonly explained by the concept of face.[159] It is integral to collectivist societies and describes the proper relation, reputation and standing in society and the obligation to stay trustworthy.[160] The loss of face, meaning the failure to meet certain requirements of the individual's social position, is a serious matter in China and affects the individuals' ability to function in the society.[161]
Although these value profiles may not apply to all Chinese individuals anymore, however, they form adequate categories to explain Chinese behavior.[162] Many of them are also reiterated and anchored in socialism. In the year 1949, after regaining independence from semi-colonial occupation, the People's Republic of China and the Chinese Communist Party under Chairman Mao established a socialist political model bringing communism in form of a highly centralized economy.[163] A model called "iron rice-bowl" was introduced as a copy from Soviet practice. It implied that companies had to provide their employees with basic life security by offering food, housing, medical and social insurance and life-time employment.[164] Even if the historical socio-cultural values still remain a mainstream ideology in China, the capitalism, introduced through interaction with Western nations beginning in the late 1970s, has led to changes in the society. It has advocated materialism, individualism and equality affecting the interest of younger generations in income and higher quality-of-life expectations and the realization of individual dreams.[165]
3.2.2 The impact of the cultural aspects on the work values of Chinese employees
Carrying these assumptions into the business environment, the relevant literature has identified several fields of impacts on the Chinese work values.[166] They may help to understand certain aspects of the employees' motivation and behavior. Power distance and the emphasis on hierarchy are considered in the literature to destroy a sense of participation and evoke reluctance to share ideas since employees often seem to feel uncomfortable if they have to be involved in decisions that are not defined within their realm.[167] Gaining the ability and having the possibility to ascend within the hierarchical system can provoke the desire of the employees to reach a higher level of social status. In this context, education and occupational advancement can provide entry to high status groups.[168]
A study by Redding and Ng illustrates that Chinese employees see the preservation of face as very important in their work environment.[169] Therefore, Chinese workers tend to adhere traditionally to harmony in participation and decision-making processes with the objective to save face.[170] Being criticized in public by a manager the subordinate experiences a loss of face.[171] The fear of being punished for mistakes is assumed to result in passivity in the workplace connected to the avoidance of uncertainty and the desire to maintain social order. By refusing to take over responsibility and by valuing predictability in the work environment a serious social damage shall be prevented.[172]
The egalitarianism which came along with the "iron rice bowl" model fostered the employees' preferences for a predominately flat wage structure with minimal differentiations within and between categories of worker as well as for the absence of performance-related bonuses.[173] By distributing rewards and benefits equally, the societal and workplace harmony was maintained.[174] Nevertheless, the increase of individualistic ideals and accountability in the course of the diffusing capitalism may, in motivational terms, implicate a higher weight of individual success rather than the reliance of the collective.[175] The fact that Chinese employees attach more importance on individual achievement manifests itself also in the raising value of personal as well as organizational knowledge and skills which has been observed in China since the late 1970s, leading individuals to pursue high quality education and continuing training.[176]
3.3 Determination of central motives of Chinese employees by focusing on the needs of the Chinese people
The degree of motivation and the implication of the staff's behavior are not solely determined by socio-cultural values, but also by the set of needs that individuals try to satisfy.[177] This also has implications for the motives of the Chinese employees.[178] A common theory to classify human needs is Maslow's hierarchy of needs.[179] But, the order of the hierarchy is not rigid and may vary depending on the particular individual.[180] As figure 6 shows, Nevis created a hierarchy of Chinese needs revising Maslow's approach and trying to fit the cultural assumptions of China.[181]
illustration not visible in this excerpt
Figure 6: Chinese hierarchy of needs.
Source: Adapted from Nevis (1983b), p. 21.
The belonging aspect is a central point in the hierarchy:[182] It is reflecting the Chinese group loyalty and national unity[183] and is considered to be addressed even before the basic physiology needs.[184]
Collective social and economic security is understood to be very important and corresponding economic as well as social goals are ranking higher than individualistic ones.[185] Hence, it is possible to draw a positive connection between the social focus of the Chinese hierarchy of needs and a motive for affiliation. Affiliation in this context is understood as the need for human companionship.[186] In the literature, the latter is supposed to have played a major role in China as work units had a great influence on the private and social life of the employees even outside the work setting.[187] According to the term guanxi hu, which means guanxi 'family', not only a person but also a firm's department or even a whole organization can occupy a focal point in the life of the worker.[188]
Moreover, evidence has been found to suggest that the importance of achievements is relatively high in China.[189] Since the Chinese hierarchy of needs emphasizes the needs of the society, the motive for achievement is related to financial output than to strict intrinsic satisfaction.[190] The egalitarianism implicitly assumes that the individual interests equal social interests.[191] Therefore, a major focus of the Chinese employees is supposed to lie on superordinate motives such receiving a high cash income and other financial remuneration.[192] Yet, in general, achievers strive for specific feedback on their performance.[193] In China, the need of self-actualization is supposed to be conceived in the sense of serving the society in contrast to capitalism where individuals are more focused on selfish goals.[194] As a result, it is assumable that Chinese employees strive for public recognition for their achievement.
3.4 Incentives stimulating the motivation of Chinese employees: The composition of the core elements
3.4.1 Compensation incentives: Motivational use of material and immaterial stimuli
3.4.1.1 Base salary and bonus payments: The importance of monetary incentives for Chinese employees
Monetary base salary and bonus payments offered to the employee form the central element for the integration of individuals in companies.[195] The monthly base salary is a time wage that is understood as fixed payments for a certain unit of time[196] whereas a bonus as merit payment describes an extra reward for attaining a specified level of performance,[197] either as a percentage of the monthly salary or as a bonus in absolute figures like a year end or semestral bonus.[198]
According to the Western perception, the effect of the monetary wage on motivation and performance is varying depending on desires of the individual and the situational factors.[199] These payments have an attracting, motivating and retaining power as they buy the means of satisfying basic physiological needs.[200] Further, people focusing on maximized incomes increase their work if they are compensated by a higher salary.[201] In addition, monetary salary can remain motivation, as it can also lead to such rewards as status.[202] Variable merit payments are also seen as especially suitable to motivate income maximizers since greater effort induces an increase in the monetary income.[203] Employees that are rewarded for contributing to a group's outcome, for example of the team or organization, will focus their work energy on the group performance which in turn is considered to lead to an increased job satisfaction and productivity.[204]
As a result of the small pay differential in the former egalitarian wage policy, some literature assesses monetary payments not to be a major motivating factor for Chinese employees[205] and to rather serve to retain employees.[206] Other studies reveal a substantial importance of monetary salaries. It has been found out, that Chinese workers see good wages as a very important life-sustaining job attribute. Particularly because of the low living standard and due to the government's promotion of the idea that "it is glorious to be rich",[207] material rewards motivate them to higher work efforts.[208] In this context, several studies have discovered that the base salary and the year-end bonus in cash are understood to be by far the major factor for attracting, motivating and retaining employees.[209] In connection with the demand for gaining social status, the base income may be important in the course of an increasing weight of capitalism[210] since money is the measure of value and the instrument of commerce.[211] Hence, the Chinese may become income maximizers and focusing and striving for making money that can go into consumption.[212] In addition, merit bonus payments are seen as another effective component, since Chinese employees believe in the relationship between performance and reward.[213] Therefore, it would be consequent to suggest that the monetary income, be it the base salary, fixed bonuses and performance-linked bonuses, is an incentive with a rather high significance for the local Chinese employees and therefore a very important part in the incentive system.
3.4.1.2 The motivational relevance of methods of personnel development and promotion on Chinese employees
Methods of personnel development are used to support the occupational progression of the employees and to convey necessary knowledge to enable them to optimally fulfill their present and future tasks.[214] Promotion and career possibilities characterize a process of individual progress through a series of organizational stages, each of them differentiated by a relatively unique set of issues, themes and tasks.[215] Since career advancement involves the existing skills and abilities of the individual, personnel development and promotion bear a strong relationship.[216] The Western literature assumes it as difficult to precisely determine the motivational effect of personnel development since the effects of advanced training and career possibilities are hardly to be observed insulated.[217] Therefore, measures of personnel development may impinge on the performance as well as the satisfaction if the individual employee receives the impression that the acquired knowledge can be applied beneficially. If this is not the case, it can be expected that gaining additional knowledge will not lead to an increased motivation.[218] A positive motivational effect is traditionally attributed to career progress[219] and promotion can be seen as a longstanding strong incentive that encourages people to do their best work.[220] Generally, a higher financial remuneration and better possibilities to satisfy the desire for status and authority are entailed with promotion and sustaining the motivational effect.[221]
Even though skills and educational background are supposed to be less affective by cultural constraints of a country,[222] it is to be expected that personnel development will be an especially important incentive for local employees since the Chinese culture is understood to imply a high significance of training possibilities.[223] In addition, they have relevance as providers for better qualifications and chances of promotion.[224] Also, the growing value of knowledge and skills among the Chinese[225] as well as the advancing materialism can result in a high importance of education and training through which to realize individual dreams.[226] According to the comparative research of Wolff/Lusk/Rehu, Chinese workers assess opportunities for training higher than employees in Western countries.[227]
Concerning promotion, the literature presumes that Chinese professionals give high priority to career success.[228] Especially young employees under the age of 30 estimate growth in their skills and promotion to be of main importance in their life.[229] In this regard, results from another study suggest that local employees even tend to change jobs for better career opportunities as some companies offer well-trained personnel sharply higher salaries.[230] This behavior might be ascribed to the high value placed on societal status and advancing in the hierarchy as well as the enhancement in monetary terms.[231] Therefore, promotion probably also has an exceptional effects as a motivational incentive component.
3.4.1.3 The relevance of operational social security benefits and non-monetary benefits for local employees in China
The operational social security benefits that are supplied by companies can be separated into statutory social benefits and social benefits offered voluntarily to the employees.[232] The majority of the social security benefits is mandatory and covers the firm's contribution to different social insurance funds.[233] The counterparts of the statutory social benefits are the voluntary benefits on which the employees have no claim and that can be revoked at will by the enterprise.[234] Different additional benefits belong to the voluntary amenities.[235] Special insurances, extra contributions to the mentioned funds and extraordinary expenditures such as transportation allowances can be granted voluntarily by the employer.
Moreover, additional non-monetary amenities that cover for example catering or working clothes form a vital part of the social welfare care of the firm for its staff members. From the Western perspective, the benefits[236] affect the behavior of the employees directly if they, determined by their individual value structure, perceive social benefits as rewards.[237] In addition non-monetary welfare amenities can be of significance as incentives if they serve as benefits providing status.[238] They may indirectly foster the performance ability[239] as well as satisfaction of the employees and reduce absenteeism by providing better health care and social care for the staff members. Further, they can help to obtain a better image of the enterprise. Thereby it is possible to reduce fluctuation and enhance the position in the competition for potential employees.[240]
Based on the distinctive collectivism of the Chinese culture[241] it is conjecturable that the operational social security benefits form a vital part of the incentive system in China. During the 1970s, the additional social benefits from domestic Chinese companies had a great influence on the standard of living. Enterprises started to provided welfare and other non-monetary benefits like housing, consumer items and other daily functions that otherwise were discretionary personal expenditures.[242] Hence, it might be possible that many Chinese employees would regard those benefits as a matter of course, especially workers who migrate from a Chinese enterprise to a foreign company. Therefore, the social security benefits and non-monetary benefits can be assumed as necessary for recruitment decisions and staff retention issues rather than as motivational pushing influences or incentives.[243]
3.4.2 Institutional incentives: Evocation of motivation from selected elements of corporate culture
3.4.2.1 Fostering satisfaction and performance through public recognition awards
In the Western literature public recognition awards are understood as organizational methods serving as immaterial extrinsic incentives to administer acknowledgement, praise and attention.[244] Employee recognition rewards are generally set up on a formal basis or used informally by the superior and can take numerous forms. A prominent example for a formal measure is the 'employee of the month' or similar, whereas staff meetings for example can be used to informally praise both the individual and the whole staff accomplishment.[245] Regardless of culture, individuals generally seek feedback about their performance.[246] Hence, as a general rule, acknowledgements and praise are supposed in the literature to evoke job satisfaction[247] and stimulate effort.[248] Moreover, it has been found out that regular expressions of appreciation are associated with higher levels of organizational performance as a result of bolstering the motivation of the employees through the praise from managers or superiors.[249] Nevertheless, these measures can also be seen critically since the selection of one specific employee for example may make the majority of the not-selected staff members feel unappreciated or even embarrassed.[250]
[...]
---
[1] In the following, the terms People's Republic of China and China will be used equally.
[2] Shenkar/von Glinnow (1994), p. 56.
[3] Ke et al. (2006), pp. 28-29.
[4] Braun/Warner (2002), p. 557.
[5] Jackson/Bak (1998), pp. 282-283.
[6] Frankfurter Allgemeine Zeitung (2006), p. 57.
[7] Chiu/Tang/Luk (2001), p. 66.
[8] Milkovich/Newman (1999), p. 35.
[9] Braun/Warner (2002), p. 553.
[10] Wild (1973), p. 47. For other definitions also see Kossbiel (1994), pp 77-79; Winter (1996), p. 17.
[11] Becker (2004), p. 18; Ackermann (1974), p. 156.
[12] Smith (1989), p. 11.
[13] Regarding this and the following Becker (1995), pp. 34-35.
[14] Leadership can be understood as the interaction between a leader and a group of followers that modifies the motivation or competencies of the group members. Bass (1990), pp. 19-20. It can act as an instrument of persuasion of the leader on a group of followers to achieve goals. Bass (1990), pp. 14-16. For other definitions and detailed insights on leadership and its tasks see Steinle (2005), pp. 565-576. According to Becker (1995), p. 35 the subsystems include the systems of planning, organizing, controlling and staffing. For an overview on these functions of management see Steinmann/Schreyögg (2005), pp. 10-12.
[15] This perception corresponds with the aforementioned definition of Wild.
[16] Wälchi (1995), p. 30.
[17] Becker (1995), p. 35.
[18] Petersen (1989), p. 7. Strategic leadership aims at creating and implementing proper strategies to ensure the evolutionary capability of the company and to realize competitive advantages. Dess/Lumpkin/Taylor (2005), p. 371; Steinle (2005), p. 564.
[19] Grewe (2006), p. 11; Becker (1995), p. 35.
[20] Hills/Bergmann/Scarpello (1994), p. 15; Frey/Benz (2004), p. 22. They shall lead the employees to actions which are conducive to fulfill the corporate objectives. Petersen (1989), p. 6.
[21] Hall/Goodale (1986), p. 485; Fombrun/Tichy/Devanna (1984), p.44; Vicente (1993), p. 240.
[22] Cherrington (1994), p. 111.
[23] Becker (2004), p. 24.
[24] Becker (2004), p. 18.
[25] Smith (1989), p. 11.
[26] Collins (1986), p. 21.
[27] Grewe (2006), p. 12.
[28] Hills/Bergmann/Scarpello (1994), p. 15.
[29] Guthof (1995), p. 34.
[30] Lawler (1990), p. 24.
[31] Weinert (1992), p. 127, Milkovich/Newman (1999), p. 285.
[32] Guthof (1995), p. 34.
[33] Daft (2000), p. 416.
[34] Daft (2000), pp. 470-471; Collins (1986), p. 21. Additionally, Collins mentions the working conditions as a factor that impacts on the job satisfaction. Job satisfaction is the degree to which the organizational incentive system is able to satisfy work-related needs of the employees. Weinert (1992), p. 126.
[35] Condly/Clark/Stolovich (2003), p. 49.
[36] Weinert (1992), p. 127.
[37] Luthans (2005), p. 215; Robbins (1998), p. 155.
[38] Robbins (1998), p. 155.
[39] Weinert (1992), p. 127.
[40] Brose (2006), p. 62.
[41] Regarding this and the following Hentze/Lindert (1998), p. 1014.
[42] Brose (2006), p. 64.
[43] Barkema/Gomez-Mejia (1998), pp. 140-141.
[44] Economic efficiency refers to the provision of goods and services following the principle of economically using scarce resources. This is realized by a preferably favorable ratio between factor input and return. Marr/Stitzel (1979), p. 57.
[45] Becker (1990), pp. 18-19.
[46] Barber/Bretz (2000), p. 37; Kruse (1996), p. 86.
[47] Picot/Reichwald/Wigand (2003), p. 4.
[48] Grewe (2006), p. 15.
[49] Ferris/Buckley/Fedor (2002), pp. 329-330.
[50] Wagner/Grawert (1991), p. 349; Cullen (2002), p. 517.
[51] Grewe (2006), p. 14.
[52] Brose (2006), p. 64. However, an absolute and objective pay equity is probably not achievable due to the subjectivity of the perception and the different socio-ethical understanding of the individual social order. Therefore, it can be understood as an ethical value. Keller/Kurth (1991), p. 5; Guthof (1995), pp. 37-38. This assumption may have a particular importance in the international context of this thesis.
[53] Wälchi (1995), p. 26.
[54] Maturana/Varela (1987), pp. 148-150.
[55] Steinle (1978), p. 61. The term "motives" can also be expressed as reasons urging individuals towards specific goals to eliminate states of stress. Wiswede (1962), p. 11. Steinle (1978), p. 44 defines motives as a group of events, rated positive or negative, which the individual tries to reach or avoid using adequate behavior.
[56] Klinger (1978), p. 6.
[57] Frese (1980), p. 286.
[58] Schanz (1991), p. 13; Steinle (2005), p. 593.
[59] Frey/Osterloh (2002), p. 7.
[60] Lawler (1969), p. 162; Frey/Osterloh (2002), p. 7.
[61] Becker (1990), p. 9.
[62] Westerbarkey, (1996), p. 144.
[63] Becker (1990), pp. 9-10. Ribeaux/Poppleton (1980), p. 133, relate to working conditions in a wide sense as pay, supervision, company policy, job security and physical surroundings.
[64] Schanz (1991), p. 15.
[65] Becker (1990), pp. 9-10.
[66] Regarding this and the following Lindert (2001), pp. 141-142. Clark/Wilson (1962), p. 134, define material incentives as tangible rewards.
[67] Schanz (1991), p. 14; Hentze et al. (2005), p. 165. For a recapitulating overview of the types of material and non-material incentives see Welge/Hüttemann/Al-Laham (1996), p. 82.
[68] Wälchi (1995), p. 29.
[69] Frey/Osterloh (2002), p. 7; Westerbarkey (1996), p. 146.
[70] Hentze (1990), p. 52; Patten (1977), p. 393.
[71] Steinle (1991), pp. 813-815; Steinle (1993), pp. 158-159. Apart from the here mentioned groups two more categories are identified by Steinle (2005), pp. 595-596: The replicating incentives gain in importance with a rising level of delegation. The low importance of delegation in the thematic context of this thesis will become apparent in section 3.2.2 and 3.4.3.2. The intrinsically incentives that relate to the intrinsic value deriving from tasks featuring autonomy and variety are subsumed in this work under the strucutral incentives. Therefore the replicating and intrinsic value incentives will not be considered seperately.
[72] Steinle (2005), p. 596.
[73] Milkovich/Newman (1999), pp. 287-288.
[74] The status is understood as the relative ranking of a person in a society, organization or group and status symbols shall represent this status. Luthans (2005), p. 237.
[75] Hagen (1985), p. 142.
[76] Wälchi (1995), p. 29, Steinle (2005), p. 596.
[77] Steinle (1991), p. 814; Steinle (1993), p. 159.
[78] Simon (2001), p. 19.
[79] Haasen/Shea (2003), p. 14.
[80] Gordon (1999), p. 354.
[81] Luthans (2000), p. 119.
[82] Steinle (2005), p. 595.
[83] Herzberg (1968), p. 53.
[84] Daft (2000), pp. 551-553 and p. 556.
[85] Steinle (2005), p. 595.
[86] Chung (1977), pp. 76-77.
[87] Brose (2006), p. 53.
[88] Locke (2001), p. 14. Steinle uses the term "motives" and defines them as generalized and continuing goals of behavior of humans. Steinle (1978), p. 44. In the literature, it is assumed that needs are arousing the motives. Neverthesless, the terms "need" and "motive" are often used synonymously. Staehle (1999), p. 166. For an example on the equal use in the context of performance behavior see the model of Hersey/Blanchard (1982), p. 60.
[89] Wälchi (1995), p. 26. A clear correlation between the incentives offered to the employees and their behavior can be hardly proved due to the fact that constructs like motives, values and believes act as intervening factors which cannot be observed directly. Steinle (1978), p. 40; Lindert (2001), p. 368.
[90] Steinle (1978), pp. 41-44; von Rosenstiel (2000), p. 206. Similar models have been developed in the American literature. In the model of Chung, motivational outputs are the results of an interaction of needs and incentives. Chung (1977), p. 9. Locke describes this process in his "mediation-linking model." Locke (2001), p. 14.
[91] Steinle (1978), p. 48.
[92] Chung (1977), p. 9.
[93] Steinle (1975), p. 61.
[94] Steinle (1978), p. 48.
[95] Chung (1977), p. 9; Steinle (1978), p. 50.
[96] Locke (2001), p. 15.
[97] Chung (1977), pp. 9-10.
[98] Hofstede (2001), p. 9.
[99] Hofstede (1991), p. 9.
[100] Ferraro (1998), p. 16.
[101] Newman/Nollen (1996), pp. 745-755.
[102] Child/Warner (2003), p. 27.
[103] Aycan et al. (2000), p. 194.
[104] Schein for example assumes internal culture to be "a pattern of shared basic assumptions (…) taught to new members as the correct way to perceive, think and feel". Schein (1992), p. 12. For a comprehensive overview on existing definitions of corporate culture see Kutschker/Schmid (2005), p. 679.
[105] Aycan/Kanugo/Sinha (1999), p. 501. The culture of a country often constitutes the development of a corporate culture and is brought into the organization through the employees. However, the company has certain scope to differentiate the corporate culture from the country's culture. Steinmann/Schreyögg (2005), p. 737.
[106] Aycan et al. (2000), p. 194.
[107] Aycan/Kanugo/Sinha (1999), p. 505.
[108] Child/Warner (2003), p. 27.
[109] Newman/Nollen (1996), p. 755.
[110] Adler (1983), pp. 29-35; Negandhi (1983), pp. 19-22.
[111] Bond/Hofstede (1988), pp. 5-19. Thereby, Hofstede/Bond enlarged the focus of Hofstede's original study now including China. For the primary work see Hofstede (1980). Another study expanded Hofstede's work, comprehensively analyzing nine cultural dimensions in 62 countries. House et al. (2004), pp. xvi-xvii.
[112] Aycan/Kanugo/Sinha (1999), p. 506.
[113] Newman/Nollen (1996), p. 755-756. For detailed insights on all of the dimensions and their influence on management practices see Newman/Nollen (1996), pp. 755-760.
[114] Welge/Holtbrügge (2003), p. 195.
[115] Kumar (1991), p. 134.
[116] Jamieson/O'Mara (1991), pp. 109-110.
[117] Mead (2005), p. 123.
[118] Adler (2002), p. 176.
[119] Huo/Steers (1993), p. 73; Weinert (1992), p. 126.
[120] Braun/Warner (2002), p. 557.
[121] Kumar (1991), p. 141.
[122] Section 2.1.1.
[123] Schein (2000), p. xxxiii.
[124] Kumar (1991), p. 146.
[125] Lichtenberger (1992), p. 18.
[126] Huo/Steers (1993). p. 73.
[127] Balkin/Gomez-Mejia (1987), p. 180.
[128] Kumar (1991), p. 146.
[129] Section 2.3.2.
[130] Mead (2005), p. 120.
[131] Mead (2005), p. 128.
[132] Due to obvious language barriers, possible findings of research in the sinophone literature could not have been considered for this thesis. However, one cannot rule out the possibility that corresponding researching efforts have also been made in the Asian region.
[133] Tsang (1994), p. 9; Section 3.2.1.
[134] Braun/Warner (2002), p. 557; Ding/Fields/Akhtar (1997), pp. 602-603.
[135] Jackson/Bak (1998), p. 292.
[136] Tsang (1994), p. 8.
[137] Whiteford (2003), pp. 49-51.
[138] Davin (2001), p. 7.
[139] Zhu (2002), p. 39; Tsang (1994), pp. 8-9.
[140] Ding/Fields/Akhtar stress that 70 % of the Chinese workforce is unskilled. Ding/Fields/Akhtar (1997), p. 600.
[141] Braun/Warner (2002), p. 570.
[142] Ding/Fields/Akhtar (1997), p. 608.
[143] Jackson/Bak (1998), p. 294.
[144] Tsang (1994), p. 9.
[145] Ding/Fields/Akhtar (1997), p. 600.
[146] Wang (1994), p. 703.
[147] Chiu/Tang/Luk (2002), p. 402.
[148] For example Welge/Hüttemann/Al-Laham (1998), p. 81; Becker (2004), p. 25.
[149] Jackson/Bak (1998), p. 291. Many of the approaches considered in section 3.1.1 encompassed specific parts of incentives. Chiu/Tang/Luk for example focused only on monetary compensation, even though they divided incentives into monetary and non-monetary rewards. Chiu/Tang/Luk (2002), pp. 402-403.
[150] Section 2.2.1.2.
[151] Littrell (2002), p. 19. Comprehensive details on Confucianism can be found in Wang et al. (2005), pp. 314-315 and Peill-Schoeller (1994), pp. 121-143.
[152] Wang et al. (2005), p. 315.
[153] Littrell (2002), p. 17; Wang et al. (2005), p. 315.
[154] Bond (1996), p. 225.
[155] Hofstede (1991), p. 51.
[156] Wang et al. (2005), pp. 315-316; Littrell (2002), p. 17.
[157] In China "gunaxi" literally means relationship between objects, forces or persons. It goes beyond family and friendship relations having a sense of social relations based rather implicitly on mutual interest and benefits. Yang (1994), pp. 1-2.
[158] Davis/Leung (2003), pp. 42-43.
[159] For a detailed insight on the concept of face see the work of Ho (1976), pp. 867-884.
[160] Sergenat/Frenkel (2001), p. 204.
[161] Ho (1976), p. 867.
[162] Verburg et al. (1999), p. 394.
[163] Ke et al. (2006), p .30.
[164] Verburg et al. (1999), pp. 392-393.
[165] Ke et al. (2006) pp. 31-32.
[166] Jackson/Bak (1998), pp. 285-286.
[167] Wang et al. (2005), p. 319.
[168] Littrell (2002), p. 17.
[169] Redding/Ng. (1982), pp. 214-215.
[170] Wang et al. (2005), p. 320.
[171] Verburg et al. (1999), p. 393.
[172] Wang et al. (2005), p. 318.
[173] Goodall/Warner (1997), p. 577.
[174] Becker/Yang (1989), pp. 419-420.
[175] Jackson/Bak (1998), p. 287; Nevis (1983a), p. 21.
[176] Ke et al. (2006) pp .32-33.
[177] Herbig/Genestre (1997), p. 563.
[178] Section 2.2.1.3.
[179] Maslow's approach comprises the following hierarchical need categories: Physiological needs, safety needs, social needs, esteem needs and self-actualization needs. Maslow (1970), pp. 35-47; also Steinle (2005), pp. 550-553. The needs are activated in a hierarchical manner meaning that they are aroused and must be fulfilled from the lowest-order to the highest-order need. Greenberg/Baron (2003), p. 192.
[180] Maslow (1970), p. 51.
[181] Nevis (1983a), p. 250. Maslow (1970), p. 51. Maslow hierarchy might be seen as a western approach, since Nevis describes it as American based. Nevis (1983a), p. 250.
[182] Nevis (1983b), p. 21.
[183] Jackson/Bak (1998), p. 284.
[184] Nevis (1983b), p. 21.
[185] Huang/van de Vliert (2003), p. 162.
[186] Moorhead/Griffin (1998), p. 131.
[187] Jackson/Bak explain that work units took care of housing, children's education and marriages. Jackson/Bak (1998), p. 285.
[188] Davies et al. (2003), p. 43.
[189] Specter/Solomon (1990), pp. 78-79.
[190] Jackson/Bak (1998), p. 284.
[191] Becker/Yang (1989), p. 413.
[192] Kickul/Lester/Belgio (2004), p. 239.
[193] Moorhead/Griffin (1998), p. 130.
[194] Cheng (1989), p. 134.
[195] Weber (1993), p. 4.
[196] Drumm (2005), p. 599.
[197] Rogers/Davenport (1984), p. 29/11.
[198] Ellig, (1985), p. 36.
[199] Willensbacher (1989), pp. 5-6; Gupta/Shaw (1998), p. 30; Rynes/Gerhart/Minette (2004), p. 389.
[200] Chung identifies pay to satisfy safety and security needs as well as self-esteem needs, among others. Chung (1977), p. 138.
[201] Frey (2002), p. 74.
[202] Lawler (1990), p. 16.
[203] Frey (2002), pp. 76-77.
[204] Greenberg (2002), p. 152.
[205] Fisher/Yuan (1998), p. 519; Huo/von Glinow (1995), p. 9.
[206] Jackson/Bak (1998), p. 288.
[207] Fisher/Yuan (1998), p. 519.
[208] Laaksonen (1988), p. 253.
[209] Fisher/Yuan (1998), p. 521; Chiu/Tang/Luk (2001), p. 70; Chiu/Tang/Luk (2002), p. 411.
[210] Section 3.2.2.
[211] Chiu/Tang/Luk (2002), p. 403.
[212] Bushardt/Toso/Schnake (1986), p. 51; Swaak (1995), p. 40.
[213] Chiu/Tang/Luk (2002), p. 411.
[214] DeSimone/Werner/Harris (2002), p. 10; Mentzel (1989), p. 15.
[215] Greenhaus (1987), p. 5.
[216] DeSimone/Werner/Harris (2002), p. 12.
[217] Savin (2005), p. 143.
[218] von Rosenstiel (1975), p. 332.
[219] Staehle (1999), p. 889; Wayne et al. (1999), p. 590.
[220] Wiley (1997), p. 277.
[221] von Rosenstiel (1975), p. 325.
[222] Lu/Bjorkman (1997), p. 616.
[223] A Chinese saying states that "Chinese […] strive to become better and, when better, to become perfect." Adler (2002), p. 24.
[224] Jackson/Bak (1998), p. 298.
[225] Section 3.2.1 and 3.2.2.
[226] Ke et al. (2006) p. 32.
[227] Wolff/Lusk/Rehu (2005), p. 260.
[228] Bu/McKeen (2001), p. 166.
[229] Fisher/Yuan (1998), p. 521.
[230] Chiu/Tang/Luk (2000), p. 48.
[231] Section 3.2.1 and 3.2.2.
[232] Haberkorn (1973), pp. 43-45; Nick (1992), p. 2066.
[233] Doyé (2000), p. 50; Oechsler (2006), p. 443. The mandatory benefits often require the contribution of both the employee and the employer. Haberkorn (1973), p. 43. This is also the case in China. Dixon (1999), p. 39.
[234] Oechsler (2006), p. 443; Westerbarkey (1996), p. 163.
[235] Regarding this and the following Haberkorn (1978), pp. 61-62; Savin (2005), p. 130.
[236] To estimate the relevance of operational social security benefits, the focus will lie on the voluntary social benefits as one can proceed on the assumption, that the companies do not have the scope for designing the statutory welfare benefits. Grawert (1989), p. 15.
[237] Regarding this and the following Grawert (1989), pp. 254-255.
[238] Regarding social benefits as status symbols see Grawert (1989), pp. 114-115.
[239] Griffes (1983), p. 7.
[240] Hörner (1996), p. 22; Grawert (1989), pp. 61-62 and pp. 256-257.
[241] Section 3.2.1 and 3.2.2.
[242] Davis (2000), p. 249; Shenkar/von Glinnow (1994), p. 60.
[243] Jackson/Bak (1998), p. 291.
[244] Luthans (1995), p. 209; Myers (1986), p. 421. As a private reward, recognition can be expressed on a one-on-one level for example verbally of written. Luthans (2000), p. 2.
[245] Luthans (2000), p. 2; Robbins (1998), p. 206.
[246] Bailey/Chen/Dou (1997), p. 607.
[247] Jung (1999), p. 452.
[248] Richter (1999), pp. 449-450.
[249] Allen/Helms (2002), p. 129.
[250] Nelson (2004), p. 244.
Details
Seiten

115

Erscheinungsform

Originalausgabe

Jahr

2006

ISBN (eBook)

9783842810648

Dateigröße

2.3 MB

Sprache

Englisch

Katalognummer

v228348

Institution / Hochschule

Gottfried Wilhelm Leibniz Universität Hannover – Wirtschaftswissenschaften, Unternehmensführung und Organisation

Note

1,3

Schlagworte