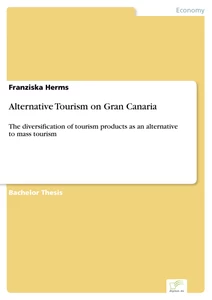 Alternative Tourism on Gran Canaria
The diversification of tourism products as an alternative to mass tourism
Bachelorarbeit 2005 106 Seiten
Leseprobe
Table of contents
List of Figures
List of Tables
List of Abbreviations
1. Introduction
1.1 Objective
1.2 Proceeding
2. Alternative Tourism
2.1 Origin and concept of Alternative Tourism
2.1.1 Definition
2.1.2 Special characteristics
2.1.3 Typology of Alternative Tourism consumer
2.2 Alternative Tourism Market
2.2.1 Typology of Alternative Tourism products
2.2.2 Marketing Channels
2.2.3 Role of travel agents and tour operators
2.2.4 Examples for successful implementations of Alternative Tourism
2.3 Impacts of Alternative Tourism
2.3.1 Economical influence
2.3.2 Psychological influence
2.3.3 Intellectual influence
2.3.4 Environmental influence
2.4 Critique of Alternative Tourism
3. Characteristics of the Canary Islands and Gran Canaria
3.1 Canary Islands in general
3.2 Gran Canaria
3.2.1 Climate
3.2.2 History
3.2.3 Economy
3.2.4 Environment
4. Development and impacts of tourism on Gran Canaria
4.1 Early tourists
4.2 Age of mass tourism
4.3 Present day and sustainable development strategies
4.4 Impacts of tourism on Gran Canaria
4.4.1 Economical impacts
4.4.2 Ecological impacts
4.4.3 Socio-cultural impacts
5. Tourism structure of the Canary Islands and Gran Canaria
5.1 Portfolio of tourism demand on Gran Canaria
5.1.1 Typology of Gran Canarian tourist
5.1.1.1 Origin of tourist
5.1.1.2 Age of tourist
5.1.1.3 Accommodation
5.1.1.4 Length of stay
5.1.1.5 Travel motives and chosen vacation type
5.2 Portfolio of tourism offers on Gran Canaria
5.2.1 Accommodation facilities
5.2.2 Gastronomy facilities
5.2.3 Infrastructure facilities
6. Alternative Tourism products on Gran Canaria
6.1 Tendency on the island
6.2 Alternative Tourism Associations
6.2.1 Tourist Board
6.2.2 GRANTURAL
6.2.3 RETUR
6.3 Alternative tourism supply
6.3.1 Rural Tourism
6.3.2 Activity Tourism
6.3.3 Nautical Tourism
6.3.4 Wellness and Health Tourism
6.3.5 Golf Tourism
6.3.6 Conference and Negotiation
6.3.7 Gay Tourism
6.3.8 Wine Tourism
6.3.9 Event Tourism
6.4 Possible impacts of alternative tourism for Gran Canaria
7. Conclusion
7.1 SWOT-Analysis of alternative tourism products on the island
7.2 Future prospects
7.3. Deductive recommendations
References
Appendix
Declaration
List of Figures
Figure 1: Alternative tourism after Mieczkowski
Figure 2: Criticism of alternative tourism, after Weaver
Figure 3: Segmentation of Tourist Spending on the Canary Islands in 2004
Figure 4: Tourist Arrivals on the Canary Islands in 2003
Figure 5: Tourist arrivals to Gran Canaria by nationalities in 2003
List of Tables
Table 1: Attributes of mass and alternative tourism, after Colin Hunter
Table 2: Employment rate after economical sectors (in thousands)
Table 3: Chosen accommodation type from tourists on Gran Canaria in 2004
Table 4: Kind of vacation realized by tourists on Gran Canaria in 2004
Table 5: Distribution of Rural Houses on Gran Canaria in 2003
Table 6: Distribution of Gastronomy Facilities on the Canary Islands in 2004
List of Abbreviations
Abbildung in dieser Leseprobe nicht enthalten
1. Introduction
When thinking about the island of Gran Canaria hardly anyone has the image of endless green and yellow flushing mountains, little traditional colourful villages, undiscovered wine-cellars and hidden cultural treasures in mind. But this may change in the future, as Gran Canaria is on its way to a new tourism development, in search for alternative tourism.
In recent years, there has been a rapid rise in interest for alternative forms of tourism, which are frequently presented as alternatives to traditional mass tourism. Factors responsible for the enhanced awareness include a greater awareness of the environmental impacts of tourism, a growing demand from tourists for new experiences and economic development policies. Today leisure and tourism are more than just elements in social life, but also indicate the individual's position in society. People are looking for sporting challenges like biking, climbing or rafting, or want to collect experience of life inside foreign cultures.
On Gran Canaria alternative tourism expresses the alternative to the island's mass tourism. Nearly three million visitors have arrived annually on the island, but within the last years these numbers are decreasing constantly. An action out of this development was the implementation of a diversification policy, while focusing on other tourism resources Gran Canaria can present. The island offers much more than only sandy-white beaches and crystal clear water all year long. These new tourism products focus on the natural resources of the island in its interior, where the original life of indigenous people still can be witnessed. Products like rural tourism, activity tourism or golf tourism are becoming here more and more importance.
Until now, only La Gomera and El Hierro are known for their alternative vacation offers within the Canary Islands. But this may change, as the island opens its doors for a new type of traveller trough a very diverse tourist offer than the island was known for since years. There have been many ups and downs in the tourism development of the island in the last years, but it seems like if the island learned from its mistakes in the past and found a different way for its future tourist development. A new age of tourism is about to come for Gran Canaria.
1.1 Objective
The objective of this paper is to introduce the reader to the term 'alternative tourism' by portraying the particularities of this kind of tourism and show off the overall shape of alternative tourism, which can be found in chapter two.
The island of Gran Canaria was chosen as it is a mass tourism destination, which tries to change its course of tourism to a more sustainable tourist development. A presentation of the destination, with its history, its economical and environmental features and its tourism development from the beginning until today, can be examined in chapter three to five.
An analysis of the introduction of new tourism products, its possible impacts and the likely future prospects of those products on the island were accomplished in chapter six. The main questions hereby were, if the development of alternative tourism products can be successful in the long run and if they can replace the traditional tourism segment, as Gran Canaria started its diversification policy to become more independent from its sun and beach segment.
1.2 Proceeding
For obtaining reliable information this paper has been written on the island of Gran Canaria. Through close contact with the Tourist Board of Gran Canaria and other alternative tourism associations an assembly of confidential information was achievable. Other information was employed through secondary and primary research. The secondary data was provided mainly by books from the library of the Gran Canarian University of Las Palmas and by newspaper articles from local papers, like "Canarias7", "La Provincia" and "Canarias Ahora". Therefore most of the literature has been read in Spanish.
Primary data was collected through interviews. For obtaining a more closely look on the topic of alternative tourism on Gran Canaria, the procedure of a face-to-face interview with experts was chosen. This primary research collection technique tends to be considered as part of qualitative research as the interviewer can also clarify certain instructions or questions.
The interviews were all realized on Gran Canaria. The conversations lasted approximately an hour. Importance was laid on personal interviews, for having the opportunity to probe answers by asking the respondent to clarify or expand on a specific response. This method also allows the exchange of further material and information regarding the topic.
The questions were prepared before the interview, specialized in the field of work of the respondents. Furthermore, personal questions were asked regarding their opinion of tourism on Gran Canaria. Those questions were the same for everyone. In some cases the questionnaire was sent out by email some days before the meeting.
The aim of the interview process was not to work off every question in order, but rather to get them answered out of the conversation. Each interview was recorded by taking notes, which were afterwards summarized. The interviews were all held in the native language of the respondents, thus in Spanish. The answers of the interviews are provided within the context of the paper, while the answers of personal questions of all interviews can be found listed in the appendix. Interviews were held with:
- Eduardo Reyes
- Business analyst of the Gran Canarian Tourist Board
- Dated 18.10.2005
- Inma Báez Ramírez
- Assistant Manager of Tourism from the City Hall of Santa Brígida
- Dated 10.11.2005
- Diego Grimaldi Rey
- Professor of sociology and physiology of the Tourism Faculty at the University of Las Palmas de Gran Canaria (ULPGC)
- Dated 29.11.2005
- Raúl Alexandro Ortega
- Directing Manager of the Gran Canaria Rural Association
- Dated 30.11.2005
The data gathered from the primary research, will be presented as the results of the investigation carried out by the researcher during this paper.
2. Alternative tourism
Over the last years the concept of "alternative tourism" has emerged in various shapes and in different parts of the world, in both developing and developed countries. Alternative tourism is obviously not alternative to all other forms of tourism, but rather alternative to essentially what is known as mass tourism. Alternative tourism might be distinguished from "conventional/mass" tourism by a number of features such as number and typology of tourists, motivational selection decision, and accommodation.[1]
The following chapters of this paper are going to portray the particularities of alternative tourism and show off the overall shape of this kind of tourism. It is defined what alternative tourism is and its usefulness as a concept to classify the diverse types of tourism that emerge in the international market. It is not only defined by its counterpart "mass tourism", but also through the type of experiences lived by the tourists and the way it is supplied through small and medium operators. Tourism is looking for an "alternative" both cultural and natural, both personal and authentic, intimately an 'alternative tourism'.
2.1 Origin and concept of Alternative Tourism
The term "Alternative tourism" emerged originally from the Third World as a reaction to the negative effects tourism heaped on its countries. This kind of tourism came in different names and various models to improve the situation and to preserve the original rural appeal of the tourist destination. And through increasing global concerns for the environment, alternative tourism became another new form of sustainable tourism.
During the 1970s and the early 1980s a number of projects and policies promoting "new" forms of tourism appeared on the market,[2] arguing for a more socially and ecologically benign alternative to mass tourism development.
Those projects, for example in the French Polynesia or in the Caribbean, were usually small scale and involved a high degree of participation by the local population. The goal of development through local involvement appeared to be reinforced by the strong and explicit goal of improving contacts between the hosts and their guests. Indigenous accommodation facilities were not only seen as a way by which the local population could become involved in tourism, in turn also as a mean of offering a more authentic, meaningful and satisfying experience for both the visitors and the visited.
According to David A. Fennell the philosophy behind alternative tourism was:[3]
"… to ensure that tourism policies should no longer concentrate on economic and technical necessities alone, but rather emphasise the demand for an unspoiled environment and consideration of the needs of local people."
This more sensitive approach places the natural and cultural resources at the forefront of planning and development, instead of behind the thought. Thus, alternative forms of tourism provide the means for countries to eliminate outside influences and to sanction projects themselves and to participate in their development, with the goal to win back the decision-making power in essential matters rather than conceding to outside people and institutions.
2.1.1 Definition
The concept of alternative tourism is very broad and therefore it is difficult defining one absolute and watertight definition. There are numerous good attempts from authors, who published criteria about what the definition of alternative tourism should be assessed.
"Alternative Tourism is a privately offered set of hospitality services (and features), extended to visitors, by individuals, families, or a local community. A prime aim of Alternative Tourism is to establish direct personal/cultural intercommunication and understanding between host and guest." (Dernoi 1988:.89)
"Alternative tourism is a process which promotes a just from of travel between members of different communities. It seeks to achieve mutual understanding, solidarity and equality among participants."
(Holden 1984:15)
The stress in all definitions lays on the facilitation and improvement of contacts between hosts and guests, especially for obtaining a cultural exchange and intercommunication of both parties. Donald Macleod expressed the purest form of alternative tourism by a number of the following principles:[4]
- It should be built on dialogue with local people who ought to be aware of its effects
- It should be established on sound environmental principles, sensitive to local culture and religious tradition
- The scale of tourism should be tailored to match the capacity of the local area to cope, measured in aesthetic and ecological terms
But to what is alternative tourism actually alternative? It is obviously not alternative to all forms of tourism, but rather to the least desired or most undesired type of tourism.
Mieczkowski identifies alternative tourism by its relation to the conventional 'mass tourism', which has prevailed on the market for some time. 'Mass Tourism' or 'Traditional Tourism' generally refers to the big conglomerates or tourist resorts in the world. Where the tourist expects the same type of service and facilities whether in Bali or in New York, and where there is little interaction with the local communities.[5]
Alternative tourism is a flexible generic category that contains a multiplicity of various forms that have one feature in common: they are alternatives to mass tourism. Under this concept a series of classifications and types of tourism can be find. What characterizes the concept of 'alternative' is the existence of small or medium companies, created by families or friends, where there is the possibility of more contact with the communities and where most of the times there is a respect for the environment.
This concept is generally used by government institutions and academics, and travellers rarely request 'alternative tourism' by that specific name. Instead, they ask for what they are seeking - adventure, education, sports, religion, experiences with communities, etc. The problem with alternative tourism is that it defines itself by what it is not. In this case alternative tourism contrasts with 'traditional tourism.'
2.1.2 Special characteristics
Alternative tourism is characterised as small scale, frequently developed by local people and typically involves travelling to relatively remote, undisturbed natural areas with the objective of admiring, studying and enjoying the scenery and its wild plants and animals, as well as any cultural features found there. In addition it is characterized by the contact and understanding between the hosts and the tourist, as well as the environment. It is consistent with the natural, social and community values and it allows a positive relationship among locals and tourists. Furthermore, this kind of tourism includes micro and small companies of local inhabitants' property and causes smaller impacts on the natural and social environments.[6] It links with other sectors, like agriculture and handicrafts, and with the local economy and aims for retention of earnings in this region. Thus, there is a significant distinction between mass and alternative tourism. Alternative tourism differs from standard mass tourism in the supply of tourist services, how the services are carried out and the human resources who carry out the services. Further attributes of both types are considered in Table 1.
Abbildung in dieser Leseprobe nicht enthalten
Table 1: Attributes of mass and alternative tourism, after Colin Hunter[7]
True alternative tourism is one that is not subject to the profit motives of big business interests. Alternative tourism works for an empowered community that can and will reject development impositions on their lives.
Typical activities of alternative tourism include activities on the water, in the air or on the ground. They range from normal to extreme activities, like for example: trekking and hiking, bike riding or mountain biking, horse back riding, golfing, fishing, quad safaris, paragliding, climbing, wildlife excursions, rafting, etc. and are always in harmony with the nature.
2.1.3 Typology of Alternative Tourism consumer
As alternative tourism includes different tourism kinds, like eco-tourists, adventure tourists or green tourists, the profile of an alternative tourist depends on its specialisation. There are only a few concrete demonstrations by authors regarding an exact profile for those tourists. The tourist's outlines are described in this chapter according to Hunter[8] and Macleod[9], who set up the following characteristics for an alternative tourist:
Profile and socio demographic aspects
Alternative tourists are described as special interest groups, which are aged between 20 and 45 years. They are highly educated students or people working within the liberal professions, with relatively high disposable income. Usually, they stay longer in the destination than traditional tourists and their spending is more likely to trickle down to local people. Interest and concerns about the environments are common characteristics of those clients. Furthermore, they are interested in meeting the local people and possessing a strong desire for personal freedom. Those tourists tend to travel as individuals rather than in large groups and their accommodation is rather local and small scale, than based on large hotels. Many of those tourists actually described themselves as 'alternative tourists' as well as the fact that others observers have defined them as such.
Motives and behaviour
Alternative tourists are attracted by a lack of luxury development as they want more real and authentic holidays. They avoid consumer society, while resisting the typical 'club-Med' style attractions. The beaten track is something which they keep away from, while they rather go to places where nobody has set foot in before. They also get more information about their destination before and during the trip than traditional tourists.
Alternative tourists have a strong influence across a broad spectrum of socio-cultural and economic phenomena which is largely because they communicate with the indigenous population to a greater degree than the mass or charter tourists. They mix with local people, occasionally forming deep personal relationships with them and exchange more than just a few words. They aim to do without the tourist infrastructure and to use the same accommodation and transport facilities as the natives. They travel with a desire for equality and individuality, while having an environmental awareness and concern.
2.2 Alternative Tourism Market
The mass holiday in which all consumers were treated as relatively similar has apparently declined in popularity during the last years, especially for younger, and the more affluent sector of the population. Urry[10], for example, talks of a shift from 'old tourism', which involved packaging and standardisation, to a 'new tourism', which is segmented, flexible and customised. In terms of market demand, the alternative tourism, as special interest tourism, is one of the fast-growing types of tourism[11], as it can be developed in areas that may have few major attraction features or limited infrastructure, which does not allow a major tourism development in the near future. Furthermore, there is a certain group of tourists today, who look for something more than the conventional tourism. They want to become active during their vacation stay, at least combine their beach vacation with something more cultural and educational.
2.2.1 Typology of Alternative Tourism products
Mieczkowski distinguishes the specific forms of alternative tourism as cultural, educational, scientifically, adventurous and agro-tourism like, with rural, ranch and farm subsets.
Figure 1: Alternative tourism after Mieczkowski[12]
Abbildung in dieser Leseprobe nicht enthalten
Significantly there is some overlap with mass tourism but the main criterion of distinction is the scale and the character of the impacts. Another overlap occurs between the various types of alternative tourism themselves. Cultural tourism, for example, is to a large extent educational and ecotourism is aligned with nature-based tourism. Alternative forms of tourism also include thematic tourism, like ethnic, religious, wine, traditional cuisine, anthropology, traditional music and craft.[13] However, this paper outlines only four of the most popular forms of alternative tourism: Ecotourism, Culture Tourism, Rural Tourism and Adventure Tourism.
Ecotourism
Hector Ceballos-Lascurain is widely acknowledged as having defined first ecotourism as tourism that involves
… travelling to relatively undisturbed or uncontaminated areas with the specific objective of studying, admiring, and enjoying the scenery and its wild plants and animals, as well as any existing cultural manifestations (both past and present) found in these areas.
(Ceballos-Lascurain, 1987:14)
In 1980 he began using the Spanish term "turismo ecologico" to designate forms of ecological tourism. This term then became shortened to "ecotourism" in 1983. Ecotourism as a form of alternative tourism is in its simplest terms a low key and minimal impact tourism, where conservation, understanding and appreciation of the environment and cultures visited are sought. This type of tourism aims to take small groups of people to natural or protected areas with a minimum impact on the physical, social and cultural environments. Furthermore it contributes to a sustainable future for the destination it occurs in, in the form of economic returns or volunteer assistance.
Ecotourism attracts people who wish to interact with the environment and in varying degrees, develop their knowledge, awareness and appreciation of it. Therefore ecotourists behave more sensitively than many other tourists and they generally express a strong desire to learn about nature on their trips. In addition they have an explicit motivation to satisfy the need for environmental, social and/or cultural education and awareness through visiting and experiencing the natural area.[14]
However, there is always the danger that once an ecotourism destination has become so well established, that it receives large numbers of more mainstream tourists. With that process the destination loses its appeal for the ecotourists and they will then simply move on to another destination, which is still uncharted and unmanaged, to start the same process going all over again.
Rural tourism
Rural tourism, or agro-tourism, has its origin in the post-war years in Europe, particularly in France. By supporting private initiatives in the field of tourism, the population in rural regions was encouraged to stay and develop the local economy.[15] Hunting and fishing were some of the earliest tourism activities, along with walking, riding and lawn sports. From the time of the development of large urban centres, there has always been the use of rural areas for leisure by the urban elite, on a more temporary basis.[16]
Nowadays, there are many other activities engaged in rural areas, which could be characterised as: active, competitive, modern, individual and fast. They include trail biking, off-road motor vehicle riding, orienteering, survival games, hang gliding, parasailing, skiing or fashionable shopping. This pattern shows that tourism plays a positive role in diversifying and developing the economy of rural areas where traditional activities like agriculture are in decline, salaries are low and depopulation rife.
Today, rural tourism is as popular as never before. In Spain, for example, the number of rural accommodation facilities increased up to 24,5percent in the last ten years.[17] While in 1994 1.000 rural accommodations existed in Spain, now the country hosts about 9.000 rural lodging facilities.
Those participating in rural tourism may stay at a house or camp nearby. They have contact with their hosts and free access to the host's farm. Their stay could be part of another type of tour and last for a week or for a weekend. Tourists can take part in daily chores such as picking fruits, vegetables and herbs, cooking traditional meals, participating in traditional holidays and customs and observing or receiving training in traditional crafts and folkloric or rural traditions. Those tourists typically combine rural tourism with other activities such as cultural (museums and sight-seeing) or adventure tourism (climbing, bike riding, etc). However, this development has brought with it a requirement for the establishment of specific facilities and settlements to cater the increasing demand being placed in rural areas. Thus placing those new demands on the rural resource base brings the likelihood of new forms of impact and conflict.[18]
The future of tourism in rural areas depends heavily upon the successful integration of the new forms of leisure with the traditional and new forms of other activities in these areas. To make tourism sustainable in rural areas over the long term, it will require negotiation, compromise and a willingness of all parties to participate in dialogue on future directions and emphasis.
Adventure tourism
Adventure tourism requires contact with nature as well, but the tourist is involved in different activities. Therefore it demands strict guidelines to insure safety, as the focus is on bringing the customer back for a return trip. Most adventure tourists are young and work in stressful surroundings. To reduce the stress they encounter at work, it is important for them to have contact with nature. It is somewhat trendy to participate in adventure tourism, but the main reason to participate is the conscious need to be outdoors. Very often adventure tourism includes services that are connected with rural tourism and its development is sustainable.
The activities identified as adventure tourism include yachting, submarine and jeep safari, submarine archaeology, canoeing, rafting, biking, mountain biking, horse riding, survival programs, climbing, hiking, Nordic skiing, back country skiing, snow shoeing, extreme skiing, mountaineering, snow boarding and paragliding. Participation in these activities has grown substantially, as tourists seek unusual holidays, different from the typical beach vacation.
Cultural tourism
Cultural tourism is probably the oldest of the 'new' tourism phenomena. There have always been travellers for cultural reasons, since the days of the Romans, only that they were not recognized as being a discrete group of travellers before. Visiting historic sites, cultural landmarks, attending special events and festivals or visiting museums have always been a part of the total tourism experience. However, cultural tourism began to be recognized as a distinct tourism product not until the late 1970s when tourism marketers and tourism researchers realized that some people travel specifically to gain a deeper understanding of the culture or heritage of a destination.[19] The different types of cultural tourism resources are interrelated, for example in the arts where resources can be a theatre or a concert that takes place within it. (Appendix 1)
Thus, cultural tourism can be defined as a movement of persons essentially for cultural motivations such as study tours, performing arts and cultural tours, travel to festivals and other events, travel to study nature, folklore or art and pilgrimages. By experiencing culture the tourists will be educated as well as entertained, will have the chance to learn something about the community and will have the chance to learn something about the significance of a place and its associations with the local community, its heritage and its cultural or natural landscape.[20]
2.2.2 Marketing Channels
With the introduction of the internet the travel industry is facing uncertain times. The internet has revolutionized personal travel research, as it is much more comfortable from the computer at home. Today's travellers love to research their own vacation themes, destinations and alternative accommodations. Those travellers may still book through a travel agent but they want to have a lot more input into the eventual mix than in the far more predictable planning for a conventional, mainstream holiday.
Furthermore, due to the internet more and more small and medium-sized tourism operators and travel agencies are finding each other on the web and synergies are created each day by those who understand the opportunities of making reliable business-to-business contacts. Hence, the internet has made the incredible blossoming of alternative travel possible. Due to this development, small-scale operators can now compete with the giants of large-scale operators. In addition, specialized types of magazines and organizational newsletters are a general source for many alternative tourists.
As one example of many, the magazine, Archaeology, contains information on the many archaeological tours being organized each year throughout the world. Other examples are the National Geographic Traveller, Cognoscenti or the magazine Backpacker.
2.2.3 Role of travel agents and tour operators
As trends in the travel industry are changing rapidly, organizations offer more and more different travel products in different destinations in the world and travel agents are expected to know about more areas of the world, more travel interests and more travel bargains than ever before. Therefore, travel agents need to be qualified for recommending alternative tourism products to their clients. They need to make sure, that the companies are staffed by trained professionals and that the companies provide adequate insurances. Furthermore travel agents should inform their clients of special awareness in the target destination, like risks which could occur during special activities or culture behaviour of the local people, special medical care, etc. Therefore, the agencies should be provided with easy to read literature which can be shared with and passed on to the clients. Unfortunately, print resources lose their accuracy very quickly, while web resources can be updated at once. Though, most travellers value the tangibility of a travel book or an article to carry with them in their research and travel.
Furthermore, the agents should get the chance to experience themselves the alternative products, which will encourage them to share their experiences with other agents. Until an agent can speak personally of a destination experience, they hold little credibility with clients.
2.2.4 Examples for successful implementations of Alternative Tourism
That alternative tourism can work for destinations which are in search for new forms of tourism, is shown in the following examples. Greece and Bulgaria are both mass tourism destinations, which are trying to change their image to the better. Greece is doing very great in its development since a couple of years. In turn, Bulgaria just started off to introduce this new form of tourism and promoting its new image. However, both countries followed a similar tourism policy plan. They started to concentrate on the diversification of their tourist products, including all facets of their country and the involvement of local population.
Greece
For years, Greece has relied on traditional 'sun, sea and sand' holidays as many other Mediterranean destinations as well. Fortunately, officials became aware that Greece must move away from one-dimensional attitudes and needs to diversify its products and needs to expand beyond the beaches and move into areas which complement a relaxing week at the seaside. The climate, its history, the cultural tradition, and the abundant natural resources of Greece translated into abundant opportunities for alternative tourism offerings. Thus, alternative tourism became a priority of Greece's tourist policy, backed up by major incentives for potential investors.
This new and rapidly growing sector of Greece's tourism industry includes health tourism, sports tourism, ecotourism, agro-tourism, religious tourism, conference tourism, and other non-traditional products. At the same time the government stress that all alternative forms of tourism is meant to complement and expand the country's main tourism product.
Greece's tourism policy during the last few years has been to support the restoration of traditional settlements and their buildings. In addition, more than two billion euro is being funneled into the Greek tourism industry from the EU's Third Structural Fund between 2000 and 2006. Half of this money is allocated for private participation and the Greek National Tourist Organization (GNTO), which will be using part of this money to set up alternative forms of tourism. The areas which will directly benefit from this funding are eco-tourism, spa resorts, golf courses, marine tourism, congress tourism, and gastronomy. The concept of sustainable development underlines the Greek strategy of alternative tourism. Over the past few years, many new initiatives in the alternative tourism area have been developed.[21]
One of the main initiatives in Greece was the setting up of a company called "Agrotouristiki", which was formed to help in the development of eco-tourism. Through this company more than 200 applications had been submitted for eco-tourism projects in Greece during 2003. The purpose of this project is the promotion and development of the Greek countryside and the development of alternative forms of tourism through high-quality projects. Incentives for alternative tourism investments come under law 2601/98 with cash grants and subsidies up to 40percent.[22] There is also a program in place to decentralize the nation's tourism policy so that peripheral zones can become destinations. One initiative to call attention to areas interest is the publication 'In the Steps of Paul the Apostle' which promotes religious tourism in the area surrounding of Thessaloniki.
Conference tourism, catering to the academic, business, or cultural market has also become a focal point of Greece's tourist policy. Local governments and the business community fully support this policy and the government is offering lucrative cash subsidies, leasing subsidies, and tax allowances to build and expand conference facilities. Other markets where support is available include thermal springs and spas, golf-courses, health and beauty farms, and gastronomy. As Greece is blessed with a rich natural heritage, and a great variety of eco-systems, it had and still has an enormous potential as an alternative tourism destination.
Bulgaria
Bulgaria is still dominated by mass tourism and is still relatively unknown worldwide as a tourism destination. However, municipalities and entrepreneurs have shown an increasing interest for alternative forms of tourism and more and more people are interested in developing alternative tourism there and more tourists are enjoying it.
Communities in all regions of Bulgaria have developed and submitted plans to find funding for cultural tourism and eco-tourism. For example, the Bulgarian Association of Alternative Tourism (BAAT) was established in 1998 as a national tourist non-government organization. Its goal is to turn Bulgaria into a successful destination for alternative tourism while helping conserve its unique environment and culture, and protect and improve the lives of its people. The BAAT has more than 90 members today, including regional associations in the field of tourism, local tourist councils, nature parks, guesthouses and small hotels, incoming tour operators, producers of traditional Bulgarian food and products, and individuals with business interests in alternative tourism.[23] In 2003 the BAAT had been working on new programmes on rural, botanical, ornithological and green tourism as well as wine tours. Furthermore new associations have grown, specializing to promote rural, village, cultural and eco-tourism. At national and regional tourism fairs, the Ministry of Culture and Tourism and the State Agency for Tourism continue to give their verbal support to sustainable tourism initiatives.
Achieving the full benefits of tourism requires a commitment to develop responsible tourism, which will require cooperation among national and regional governments and other stakeholders, and increased communication between government ministries and industry. This commitment should in turn be followed by an effective national strategy for tourism that ensures an integrated, coordinated, phased approach to sustainable tourism development within a framework of the nation's development goals. The efforts of governmental institutions (Ministry of Economy, Ministry of Culture, Ministry of Environment and Waters), nongovernmental organizations, municipalities and local councils of tourism are going to improve the tourist product and make Bulgaria an ideal destination for alternative tourism. According to the BAAT Bulgaria will be a leading alternative tourism destination among the Balkan and Eastern European countries by 2007.[24]
2.3 Impacts of Alternative Tourism
"In sheer economic cost-benefit terms, alternative tourism is really much more profitable and beneficial to a greater number of people than it seems at first blush, it also produces less environmental and cultural pollution."
(Macleod, 1998:195)
Alternative tourism can have influences in many areas of life, including the economic, socio-cultural, psychological, intellectual and environmental, upon the local community. Macleod[25] explained them in the following way.
2.3.1 Economical influence
Local people may rent out rooms of their own homes or own small stores, providing local food and drinks, which are purchased by tourists. These earnings are going straight into their own pockets, which mean that locals gain income from tourism-related employment. The money earned by local people allows them to increase their spending power and their lifestyle. This creates a 'multiplier effect' whereby they pass some of their earning onto others through purchasing their goods enabling other traders to profit from the incoming money. Furthermore, new business ideas may be introduced by tourists, who decided to settle down for a longer period in the destination and therefore influence the local population as well in a socio-cultural way.
The economic impact is potentially more profound on the individual basis due to their propensity to live within the host community in private family accommodation as well as spend money on local services.
2.3.2 Psychological influence
Through tourists, who are settling down emotional relationships may built up. The foreigners may have different approaches to partnerships and lifestyle, which leads local people question their own attitudes as individuals.
The locals become more aware of their own identity as a distinct group through continual interaction and contrast with foreign visitors. Also, gender roles are challenged by foreigners who have different ideas about how either sex can behave. This may lead to more self-confidence and independence, especially amongst women. Through the demand for their labour in tourism related work, they also can experience an economic freedom.
2.3.3 Intellectual influence
The introduction of new foreign languages through tourists, may lead to a longing to learn these languages by the local population. Many of them make efforts to learn them informally through contact with the tourists in shops, bars, apartments or through friends.
There is also an exchange of ideas, in which new fashions in clothing, musical taste and food are involved, as well as thoughts on all manner of things. This exchange can give both parties a new perspective on their own country and lifestyle.
2.3.4 Environmental influence
Alternative tourists have usually an interest in ecological matters and enjoy the natural beauty of the destination visiting. But through activities started up by the tourists in natural surroundings long-term detrimental effects on the environment may eventually happen. However, initially these activities were generated for the tourist's desire of enjoying the natural environment without apparently harming anything.
Furthermore, the appreciation which the tourists bring up for the beauty of the destination certainly promotes a stronger awareness amongst the local population of their heritage. It helps focusing the attention on the importance of their natural and cultural resources.
2.4 Critique of Alternative Tourism
To many academics and jaded travel writers, alternative tourism sounds good. However, there are problems and costs associated with that concept, which have generally been ignored by many proponents of alternative tourism and in some situations the 'cure' may be worse than the symptoms.[26]
Therefore, this concept should be treated with caution. Problems that can occur with this apparently benign form of tourism are depicted in Figure 2:
Figure 2: Criticism of alternative tourism, after Weaver[27]
Abbildung in dieser Leseprobe nicht enthalten
Alternative tourists themselves may cause socio-cultural stress by being overly intrusive in their desire to experience 'backstage' lifestyles over a certain period of time. Similarly, ecotourists may unintentionally distress wildlife by their presence or introduce harmful diseases or species into a sensitive natural area.
Furthermore, this type of tourism can become an element of elitism, according to Butler[28], as its impacts could follow a different course to mass tourism if there is no selective and deliberate planning and control over such a development. The planning should be made on small scale by people knowledgeable about the local area and with sensitive types of development strategies, as alternative tourism is fragile. With small-scale investment there are fewer problems, because of labour intensiveness there is more employment and because businesses then tend to be family based.
However, those destinations which are characterised by mass tourism should not just try to replace it by something else like alternative tourism. Alternative tourism could not replace it in economic terms, in personal preference terms and certainly not in logistical terms. At best, perhaps it can fulfil a number of roles, as to complement conventional tourism by increasing attractions and activities in the rural areas of the destination, to let the tourists enjoy the cultural history of the region. Another role could be to serve the needs and desires of specific groups or categories of tourists, including for examples, those interested in natural history, in languages or in photography. A further role may be to supplement incomes of primarily rural dwellers through for example farm tourism, guiding or crafts.[29]
The real value of alternative tourism lies in aiding more realistic attempts to enhance the problems of conventional tourism rather than trying to do away with mass tourism.
3. Characteristics of the Canary Islands and Gran Canaria
To understand the problematic situation of tourism on Gran Canaria a detailed description of the destination is first given. In this paper Gran Canaria is always being described within the context of the Canarian Islands to identify its specialities, differences and its uniqueness compared with the other islands.
An overview of the geographical situation of the Canary Islands and Gran Canaria is given, as well as a closer look on its historical development, its economy and its natural beauty. In this way the territorial surroundings of life, work and vacation are presented, for obtaining an impression of the social circumstances in the destination.
3.1 Canary Islands in general
The Canary Archipelago is a group of volcanic islands, lying in the Atlantic Ocean. They have an expansion of about 7.500 square kilometres and are located between the 28th and the 29th latitude. The archipelago is about 115 kilometres distanced from the northwest coast of Africa, a two and a half hours flight away from any Spanish airport and a four hours flight from most European capitals. The island group includes five western islands: La Palma, El Hierro, La Gomera, Tenerife, and Gran Canaria. The western islands are younger than the eastern group and are more mountainous, with well-developed forests. The eastern islands: Lanzarote and Fuerteventura are lower and drier.[30]
The Canary Island Archipelago was formed by undersea volcanic activity. There have also been eruptions on emergent islands, with the most recent one occurring on La Palma in 1971. La Palma and El Hierro are the youngest islands, only two to three million years old. Because of the island's origin, all materials on the Canaries are volcanic.
The island group is an autonomous region of Spain, subdivided into two provinces: one of them is the province "Las Palmas" with the islands Gran Canaria, Fuerteventura and Lanzarote and four smaller islands in the North of Lanzarote and Fuerteventura. The second province is called "Santa Cruz de Tenerife" and embraces the islands Tenerife, La Gomera and El Hierro. The total population of the archipelago added up to 1.915.540 inhabitants in 2004[31].
3.2 Gran Canaria
Gran Canaria is situated in the centre of the Canary Islands and is called "The Small Continent" due to its extremely varied landscapes with European, African and even American vegetation. It has a total area of about 1.562 square kilometres and is therefore the third biggest island, after Tenerife and Lanzarote and the most densely populated island with 790.360 inhabitants.
Due to the geological formation of the interior of the island, its landscapes are very different from those of the coast. Being of volcanic origin, the island has a circular shape with a calibre of 50 kilometres.[32] Its highest peak is the "Pico de Las Nieves" with 1.950 meters which divides the island into two parts: The very humid and green north, and the rather dry and desert like south. It is the South where the famous beaches of Playa del Inglés and Maspalomas with its amazing sand dunes are situated and which is where most of the tourist resorts have been established. Over all Gran Canaria boasts 236 kilometres of coast with sandy beaches, which are predominantly located right there.
The North, with the capital of Las Palmas and the northeast with the coastline are much diversified, offering a wide variety of beaches and coves. The western coast is a series of mountains and cliffs and plays an important role for the agriculture of the island. Here one can find the most banana and tomato plantations of the island.
As mentioned before, the centre of the island is very mountainous and these regions are still very original and unique as mass tourism concentrates mainly on the South of the island and on the capital of Las Palmas. The middle of the island offers innumerable resources at whatever time of the year, due to the mild weather conditions throughout the year. It is an invitation for the nature lover to practise a large variety of sports right in the heart of nature, with hiking, rock climbing and bicycle routes.
Another ideal way of discovering the natural and historic treasures hidden within the island's natural areas is trekking along the "Caminos Reales" the ancient network of country pathways, which has been reopened for use by the public and which forms part of the cultural and historic heritage of the island.
Although the other Canary Islands are of volcanic origin as well, only Gran Canaria offers such a wide range of different landscapes and climatic zones, which are geographically very close to each other with massive mountains, desert land and tropical forests side by side.
3.2.1 Climate
Despite their proximity to Africa, the Canaries show a wide range of different microclimates apart from sub-desert landscapes. This is caused by several factors such as elevation and orientation, but especially because of the influence of the Alisio wind, coming from the Sahara desert.
As the landscape of Gran Canaria is very unique, it has also a climate of its own, firstly due to its geographical position in the centre of the Canary Islands, secondly, because of its place in the path of the trade winds, which are responsible for the peculiar character of their climate, and thirdly, because of the variety of its geographical features. Therefore the island offers the best possible conditions for an eternal spring throughout the year. The temperature in the summer lies between 26 and 28 degrees Celsius and in the winter months between 22 and 24 degrees Celsius. Rains are heavier in the autumn and winter months, while most of the rain is captured in the north. The mountains function as natural barriers, which is why the southern part of the island is drier and has proportionally higher temperatures as well as lower humidity levels throughout the year.
The sea has temperatures fluctuating between 18 degrees Celsius in the winter months and 22 degrees Celsius during the rest of the year. Furthermore Gran Canaria enjoys an annual rate of about 2.700 hours of sunlight. Hence it is not surprising, that the American Newspaper "USA Today" highlighted Las Palmas de Gran Canaria as "one of the cities with the best climate in the world"[33].
3.2.2 History
It is believed that the Canaries were already populated around 500 B.C., although there are several theories for the origins of its early inhabitants. But what seems to be confirmed is that natives, known as Guanches, originally came from North Africa and that they were descendants of the Berber people.[34] On Gran Canaria the Guanches lived mainly in the centre of island, in the mountainous regions, where they housed in caves and stone-like houses. The peaks of the mountains, especially the famous "Roque Nublo" and "Roque Bentayga", were regarded as holy places, as gates to heaven by the natives. There the Guanches celebrated their holy rituals and ghost evocations.
The conquest of the Canary Islands began in 1402 with the capture of Lanzarote and lasted 81 years. The conquest of Gran Canaria took six years of battles, as the Guanches resisted fiercely to the Spanish invasion. In 1483 Pedro de Vera finally completed the conquest of the island successfully.[35] From this time onwards the Crown of Castile began to infiltrate the Island of Gran Canaria in political, social and economic terms and the capital of Gran Canaria became the administrative centre of the planning of the archipelago.
In the mid-nineteenth century the free port system was established on the Canary Islands, which was a special economic regime designed to favour trading relations. This new regime based on tax exemptions and facilities for free trade acted as a major trading attraction and the number of British ships and shipping companies calling in at the island soon multiplied. With this development numerous foreign companies settled down and opened their business at the island, which opened the doors also to tourism.
The Island Council Law was brought into force in the year of 1912. This led to a number of infrastructure projects such as the construction of the airport, water reservoirs and the principal highway network of the island and was the basis for the development of the tourism industry and its related services was laid.
In 1936 General Francisco "Franco" made the Canary Islands to his base from which he began his Nationalist revolt. And after his death in 1975 about 15.000 people from the Western Sahara, original Spanish folk, immigrated suddenly onto the Canary Island, which caused an unexpected population boom and lots of negative influences on the infrastructure of the islands.
In 1982 the Canary Islands passed the autonomy status, which meant more competence and more financial means for the Archipelago. And through becoming a full member of the European Union in 1990 the islands lost their free port system.
3.2.3 Economy
The current Canarian economy is characterized by the thriving tertiary sector, which represents over 80percent of the Gross Domestic Product (GDP), consisting mainly of tourism and trade.[36] The contribution to the GDP of the primary sector is mainly based on bananas. The Canary Islands are indeed the European region with the highest level of production and the greatest acreage planted with bananas. The production of tomatoes, flowers, potatoes and wine are also noteworthy.
Fishing activities play an important role in the economic growth of the Canary Islands. In fact, the Canarian ports rank among the most important in the mid-Atlantic and are located in the middle of the Canarian-Saharan Fishing Ground. The above mentioned agricultural productions, together with the fishing catches, account for the greatest part of Canarian exports.
Industrial activities are focussed on energy and water, food production, tobacco manufacture and building, together with a number of other light industries. As the islands belong to the European Union, the majority of exports go to fellow Member states. Over the last few years, however, there has been an increase in the percentage of exports to other continents, including Africa and Asia. The trade policy of the Canary Islands Government is aimed at increasing penetration in West African markets.
Looking at the labour market of Gran Canaria, the importance of the tertiary sector becomes very present as well, as it provides the main part of the islands´ employment. In 2004 the island employed about 460.920workers, from which 74percent were working in the service sector.[37] Looking at the economy of Gran Canaria, the importance of tourism for the local economy becomes obvious, as there is a strong flow of about three million visitors to the island every year.
Abbildung in dieser Leseprobe nicht enthalten
Table 2: Employment rate after economical sectors (in thousands)[38]
Thus, the other economical sectors on the island have a strong dependency on tourism as well. The construction sector increased its working power from 42.880 islanders in 1999 to 67.070 employees in 2004[39] due to the increasing constructions of new hotels. In 1981 Gran Canaria offered about 13.600 hotel beds and 67.400 guest beds (e.g. apartments, pensions, etc.).
By the end of 2003 these numbers more than doubled with 39.521 hotel beds and 101.927 guest beds[40]. This does not only show the rapid growth of tourism on the island but also the economical and ecological influence which this development had and still has on the island. Inevitably, the secondary sector has a direct dependency on tourism, as without tourism there would not be such high demand for these kinds of products.
[...]
---
[1] Cp. Pearce (1994), p.15
[2] Cp. Pearce (1992), p.172
[3] Cp. Fennell (2003), p.4
[4] Cp. Macleod (1998), p.192
[5] Cp. Mieczkowski (1995), p.450
[6] Cp. Newsome et al. (2002), p.12
[7] Cp. Hunter (1996), p.81
[8] Cp. Hunter (1996), p.82
[9] Cp. Macleod (1997), p.45
[10] Cp. Urry (1994), p.3
[11] Cp. Inskeep (1991), p.245
[12] Cp. Mieczkowski (1995), p.459
[13] Cp. Fennell (2003), p.5
[14] Cp. Diamantis (1999), p.207
[15] http://www.planeta.com (accessed 24.10.2005)
[16] Cp. Butler, Hall, et al. (1999), p.8
[17] http://www.allrural.com (accessed 10.10.2005)
[18] Cp. Butler, Hall et al. (1999), p.10
[19] Cp. McKercher, du Cros (2002), p.1
[20] Ibid, p.4
[21] http://www.alternativegreece.gr (accessed 10.10.2005)
[22] http://www.gnto.gr (accessed 10.10.2005)
[23] http://www.alternative-tourism.org (accessed 08.10.2005)
[24] http://www.alternative-tourism.org (accessed 08.10.2005)
[25] Cp. Macleod (1998), p.198-201
[26] Cp. Butler (1992), p.310
[27] Cp. Weaver, Oppermann (2000), p.375
[28] Cp. Butler (1990), p. 42
[29] Cp. Butler (1992), p.322
[30] Cp. González, Rodrigo, et al. (1986), p.45
[31] http://www.grancanaria.com/patronato_turismo (accessed 24.08.2005)
[32] Cp. Machin (1992), p.40
[33] http://www.grancanaria.com/patronato_turismo (accessed 24.08.2005)
[34] Cp. Castellno Gil, Macias Martin (1993), p.80
[35] Cp. Piqué (2003), p.27
[36] http://www.gobiernodecanarias.org/istac (accessed 28.08.2005)
[37] http://www.gobiernodecanarias.org/istac (accessed 24.08.2005)
[38] http://www.ine.es (accessed 14.08.2005)
[39] http://www.gobiernodecanarias.org/istac (accessed 28.08.2005)
[40] http://www.gobiernodecanarias.org/istac. (accessed 24.08.2005)
Details
Seiten

106

Erscheinungsform

Originalausgabe

Jahr

2005

ISBN (eBook)

9783832492816

ISBN (Buch)

9783838692814

Dateigröße

518 KB

Sprache

Englisch

Katalognummer

v224403

Institution / Hochschule

Fachhochschule Stralsund – Wirtschaft, Studiengang Leisure and Tourism Management - Bachelor

Note

1,5

Schlagworte