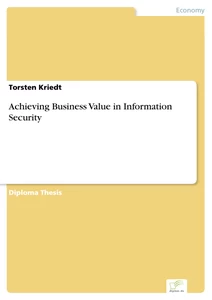 Achieving Business Value in Information Security
Diplomarbeit 2001 99 Seiten
Leseprobe
The Author
Torsten Kriedt, born in Munich in 1971, started his dual-degree course in European Business Studies, for which he held a scholarship of the 'Stiftung der Deutschen Wirtschaft', the foundation initiated by the German employers' federation (BDA) for high potentials, after a 7.5 years career in the business travel industry.
Having majored in International Finance Management he graduated with distinction in February 2002 as Diplom-Betriebswirt (Fh) from the University of Applied Sciences, Regensburg (Germany), and as Bachelor of Arts with First Class Honours Degree in European Business Studies from Oxford Brookes University, Oxford (England). His interest in the business value of information was triggered during his time with the internal management consultancy of the UK Post Office Group, in which he was member of the Enterprise Planning Team and the knowledge management special interest group.
Since February 2002 he has been employed as Director Strategic Projects with TQ3 Travel Solutions, one of the leading global travel management companies. Based in London, he is responsible for the successful management and development of the strategic project portfolio in Europe, Middle-East, Africa and Asia/Pacific; his current focus is the global implementation of a new business methodology for travel expense management consulting with a focus on change leadership and value management. Adapted to travel management his concept of the maturity model as blueprint for enterprise transformation has already been very handy for his new role...
The author can be reached on InfoSec@Solesa.com
[...]
Details
Seiten

99

Erscheinungsform

Originalausgabe

Jahr

2001

ISBN (eBook)

9783832460099

ISBN (Buch)

9783838660097

Dateigröße

973 KB

Sprache

Englisch

Katalognummer

v221247

Institution / Hochschule

Fachhochschule Regensburg – unbekannt

Note

1,3

Schlagworte